Bolivia Divisions Grow More Bitter
Morales has been a polarizing force in rich-poor standoff
September 22, 2007 - Sacramento Bee MAIN NEWS section, Page A12
By Jack Chang - McClatchy Rio de Janeiro Bureau
SUCRE, Bolivia -- When Evo Morales became Bolivia's first indigenous president, he promised to heal years of bitter social divisions and give poor Bolivians, and especially the indigenous majority, a greater say in how the country was run.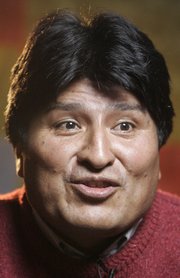 (photo to left) EVO MORALES Despite the turmoil, his approval ratings remain above 50 percent.
Twenty months later, those high hopes have collapsed, Morales is struggling to stay in control, and this landlocked country of 9 million people once again is teetering on the brink of disintegration.
Bloody street battles have broken out between Morales' indigenous supporters and his critics, while a swath of the country is seeking more autonomy from the central government.
The biggest blow has been the failure of Morales' most ambitious project, a year-long assembly that he called to rewrite the country's constitution.
After 13 months of meetings and political infighting, not a single article has been approved. The assembly's deadline has been extended to December, but few believe it will finish its work by then.
Morales' opponents have accused him of trying to use the assembly to consolidate power, and six of the country's nine governors have turned against Morales on key assembly issues. Groups demanding everything from more self-government to moving the country's capital are digging in for the fight.
"There's been no agreement because there's been no compromise by any of the two sides," said political analyst Fernando Mayorga. "In fact, there's been a radicalization on both sides that's dangerous."
So far, Morales is in no danger of being ousted by the kind of social protests that have claimed two Bolivian presidents since 2003. Last week, in fact, Morales made more history -- he's now stayed in power longer than any of his four predecessors.
Yet the 47-year-old president, who heads the Movement to Socialism party, has fueled tensions with his often fiery rhetoric and hardball tactics, critics said.
He's sparked animosity by repeatedly denouncing what he says is the "oligarchy" that controls the country's eastern lowlands.
Morales often accuses those provinces of refusing to share land and resources with poor indigenous people in the country's mountainous west.
"This is a ... battle," Morales said at a rally last week in the central Bolivian city of Cochabamba. "And here there are two things, comrades: The poor win or the rich win."
Morales also has polarized Bolivians by building close ties with Venezuelan President Hugo Chávez and harshly criticizing the United States. Last week, Morales established diplomatic relations with Iran, a Chávez ally, while imposing tough visa restrictions on U.S. visitors.
The latest, and possibly most potent, controversy erupted last month, when residents of the sleepy town of Sucre, where the constituent assembly is being held, demanded that the assembly relocate the country's capital here. Sucre had been the capital until 1899, but the seat of government was moved to La Paz after a civil war. Only the Supreme Court remained in Sucre.
Hunger strikes and street protests broke out, and violent battles between protesters and police closed down the city last week.
Sucre residents were especially outraged when Morales' allies in the assembly, who make up a majority, voted to take the capital issue off the agenda, a vote a district court later declared illegal.
The big challenge now is finding a way to pull the country back from the brink and restart dialogue between opposite camps, said Guillermo Richter, head constituent with the opposition Nationalist Revolutionary Movement party.
A gesture from Morales, who still enjoys approval ratings of more than 50 percent, would be key to such reconciliation, Richter said. So would steps by ordinary Bolivians to unite for the country's survival.
"There's a lot of pressure coming from society, and this attempt at change has opened the space for different groups," Richter said. "What we need now is agreement on what we want for Bolivia."
About the writer:
* McClatchy Newspapers' Jack Chang can be reached at jchang@mcclatchydc.com.