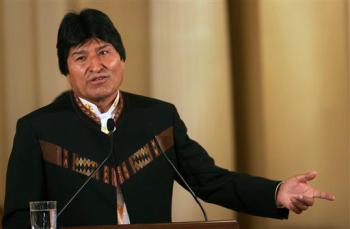 (above) Bolivia's President Evo Morales speaks during a press
conference in La Paz, Monday, Aug. 11, 2008. Members of the
international community on Monday congratulated Morales for a
peaceful vote to ratify his mandate and urged dialogue with his
opponents to heal widening divisions in the country.
(AP Photo/Juan Karita)
Bolivia opposition, Morales meet to ease crisis
August 13, 2008 - The Associated Press
13 hours ago
LA PAZ, Bolivia (AP) — Bolivia's opposition governors and President Evo Morales tried to find a solution to the nation's political crisis Wednesday in their first meeting since a bitter nationwide recall election.
The heads of the independence-minded provinces of Beni, Tarija, Pando and Chuquisaca, and a representative from Santa Cruz, said they were prepared to meet with the leftist Morales to seek a national agreement.
"We are interested in reaching an agreement to calm the nation," Pando Gov. Leopoldo Fernandez told journalists as he entered Morales' office.
(right) Residents read newspapers while having their shoes shined in Santa Cruz, Bolivia, Monday, Aug. 11, 2008. According to partial unofficial results, more than 63 percent of voters ratified the mandate of Bolivia's President Evo Morales in Sunday's referendum. Santa Cruz's Gov. Ruben Costas also survived the plebiscite.
(AP Photo/ Joao Padua)
Just hours earlier the governors had been no-shows at the presidential palace, where Morales invited them for talks following the nationwide recall.
Bolivians broadly backed Morales in the referendum, reaffirming his stated mandate to empower the country's poor Indian majority. The governors of Santa Cruz, Beni, Pando and Tarija, which are seeking greater autonomy from Morales' government, were also easily reaffirmed in their posts by voters.
Two opposition politicians were among three governors ousted.
Electoral officials reported Wednesday that with almost 96 percent of the ballots counted, the president's "yes" vote had risen to near 68 percent.
Morales' agenda has put him at odds with the more prosperous east, which is home to most of Bolivia's natural gas deposits and has resisted the president's insistence that the central government control and distribute energy profits.