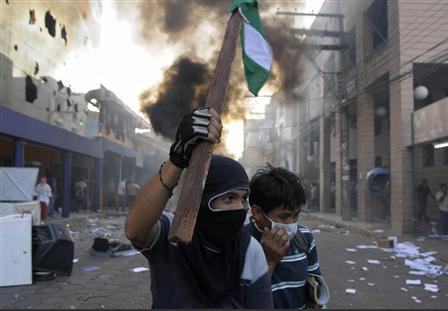 (above) Bolivian demonstrators are seen during a strike in Santa Cruz, September 9, 2008. Hundreds of autonomy activists clashed with riot military forces during a protest against President Evo Morales' policies. (photo: REUTERS/Danilo Balderrama)
Anti-government protests sweep eastern Bolivia
September 10, 2008 - Reuters

By Eduardo Garcia (Additional reporting by Carlos Quiroga; Editing by Eric Beech)
LA PAZ (Reuters) - Anti-government protesters wielding batons and stones stormed public buildings in eastern Bolivia on Tuesday, demanding President Evo Morales give more revenue to their regions and scrap a constitutional reform.
Hundreds of youths raided the offices of the state-run telecommunications company, the tax agency, the land reform institute and the local branch of the state television network in the city of Santa Cruz -- an opposition stronghold.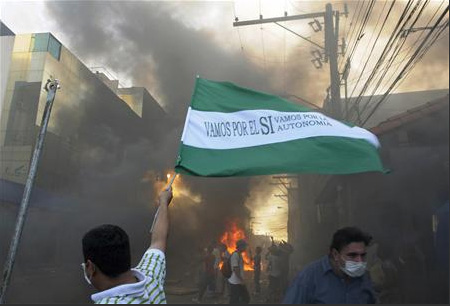 (above) A Bolivian demonstrator holds a flag during a strike in Santa Cruz September 9, 2008. (Photo: REUTERS/Danilo Balderrama)
In some of the worst violence in Bolivia for months, television pictures showed military police in riot gear firing tear gas to disperse protesters and soldiers bleeding after clashing with demonstrators.
"We're not going to let Evo Morales install a dictatorship," protest leader Roberto Gutierrez told ATB television, saying protests would continue until the leftist leader gives Santa Cruz more state energy revenues.
In the natural-gas rich Chaco area, protesters stormed a natural gas pipeline control station and tried unsuccessfully to cut exports to Brazil, officials said.
The unrest was condemned by Morales' government, which has been locked in a bitter power struggle with rightist rivals since late last year.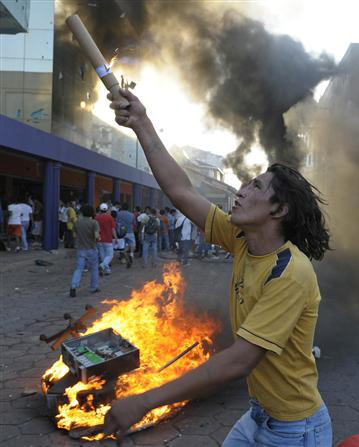 (above) A Bolivian demonstrator shouts during a strike in Santa Cruz, September 9, 2008. (Photo: REUTERS/Danilo Balderrama)
"Fascist, violent and racist people attacked institutions ... that belong to all Bolivians," Interior Minister Alfredo Rada said after an emergency meeting with Morales in La Paz.
He said the attacks amounted to "a civic coup" and blamed them on the governor of Santa Cruz, Ruben Costas, and protest leader Branko Marinkovic -- a wealthy land owner.
Local media said anti-government protesters also seized public offices and blocked roads in the Amazon provinces of Beni and Pando.
Bolivia's political crisis stems from age-old rivalries between the country's more indigenous Andean west and lowland east, where many are opposed to Morales' leftist reform agenda and fear his vows to give more power to poor Indians.
Morales, the nation's first indigenous president, has his support base in the Andes, but five of Bolivia's nine regions are led by rightist opponents. They want more autonomy for their regions and oppose his drive to pass a new constitution.
They vowed to step up their protests last week after Morales unveiled plans to hold a referendum on a constitutional draft, saying the document could give Morales too much power.
(below) People stand near burned documents of the national tax office during a strike in Santa Cruz September 9, 2008. (Photo: Reuters/Carlos Hugo Vaca)