U.S. Envoy's Expulsion Does 'Serious Damage'
to Bolivia Ties
September 11, 2008 - Bloomberg.com
By Bill Faries and Viola Gienger
Sept. 11 (Bloomberg) -- Bolivian President Evo Morales's decision to expel the U.S. ambassador on accusations that he conspired against the government will cause "serious damage" to relations between the two countries, Assistant Secretary of State Thomas Shannon said.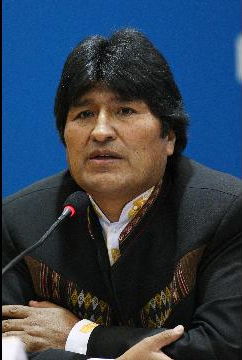 (left) Evo Morales, Bolivia's president, speaks during a news conference at the Itmaraty Palace in Brasilia, May 23, 2008. Photographer: Adriano Machado/Bloomberg News
"We consider it a grave mistake on the part of President Morales," said Shannon, the top diplomat for Latin America. Morales, who declared the ambassador "persona non grata" after a natural gas pipeline to Brazil was attacked yesterday, is signaling an intent "to walk away from a relationship the U.S. has tried to nurture," Shannon said in a telephone interview.
Morales accused U.S. envoy Philip Goldberg of supporting opposition groups and said he was no longer welcome in Bolivia while Goldberg was in a meeting with Bolivian Foreign Minister David Choquehuanca. The two were discussing Bolivia's request that U.S. Drug Enforcement Administration personnel leave the Chapare region, where much of Bolivia's illegal coca crop is grown, Shannon said.
A deterioration of ties with South America's poorest country may weaken U.S. support for renewing trade preferences for Bolivian imports. It could also undermine U.S. efforts to reduce cultivation of coca, the main ingredient in cocaine. Bolivia is the world's third-biggest producer of coca, after Colombia and Peru.
Decision 'Soon'
(right) Philip Goldberg, U.S Ambassador to Bolivia, attends a news conference in La Paz, Bolivia, on Dec. 28, 2006. Photographer: Christian Lombardi/Bloomberg News
A decision on when Goldberg will leave the country will probably be made "soon," Shannon said. Bolivia's trade preferences program is set to expire at the end of this year.
Morales's announcement came on a day of intensifying political crisis between his government and regional leaders opposed to a new constitution and Morales's control over energy tax revenue. A pipeline in the southern state of Tarija that carries natural gas to Brazil was attacked and cut. Gas shipments to Brazil will be reduced by 10 percent, or 3 million cubic meters a day, until repairs are made, the government said.
Petroleo Brasileiro SA, Brazil's state-controlled oil company, said gas shipments were "partially reduced" after the attacks and that production at its Campo Grande field was halted by demonstrators.
Bolivia has the second biggest reserves of natural gas in South America after Venezuela. Nearly all of its approximately 32 million cubic meters of gas production per day go to Brazil and Argentina.
'Anything Can Happen'
"We're probably going to have these kind of conflicts for a while," said Carlos Alberto Lopez, a former deputy minister of energy, in a phone interview from La Paz. "Anything can happen here."
A former coca grower, Morales, 48, has clashed with the U.S. since running for president in 2002, when he finished second to Gonzalo Sanchez de Lozada. Leading up to that election, then-U.S. Ambassador Manuel Rocha said aid to the country would be cut if Morales won. Echoing his ally, Venezuelan President Hugo Chavez, Morales calls the U.S. "the empire" and last year said the United Nations headquarters should be moved out of the country.
After five of Bolivia's nine provinces approved referendums this year calling for greater autonomy from the central government, Morales backed a recall referendum on Aug. 10 that left him and his main opponents, including Santa Cruz Governor Ruben Costas, in office. Afterwards, Morales promised a national vote on a new constitution in January.
The dispute between the central government and regional leaders has racial as well as economic overtones. The opposition, based in the eastern lowlands, draws more support from a wealthier, European-descended population than Morales, a westerner of indigenous Aymara descent who took office in 2006.
"Both sides are entrenched in this dispute," said Lopez. "There's so much tension and repressed aggression in Bolivia right now."
To contact the reporters on this story: Bill Faries in Buenos Aires at wfaries@bloomberg.net; Viola Gienger in Washington at vgienger@bloomberg.net