(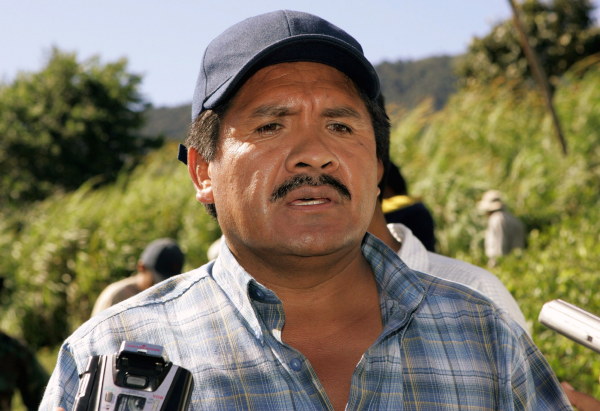 above) SUPPORT: Felipe Caceres says proposed cooperation with Russia is not meant as a slight to the U.S. (Photo: Agence France-Presse)

Russia courts leftists in Latin America
September 19, 2008 - The Washington Times

Kelly Hearn
EXCLUSIVE:
Russia is expanding its presence in left-leaning Latin American nations, with an offer of aid to Bolivia to replace drug-fighting money cut off by the Bush administration - the latest expansion of Moscow's ties with a region beset by declining U.S. influence.
Iran and China are also actively courting several nations in the region. The efforts typically target nations that have turned leftward in democratic elections, with Bolivia, Nicaragua and Venezuela among the most prominent.
(below) Graffiti in Caracas, Venezuela, depicts President Bush as Uncle Sam on the run. This week, a Russian delegation visited Venezuela, as well as Cuba and Nicaragua, to discuss joint ventures. (Photo: Agence France-Presse/Getty Images)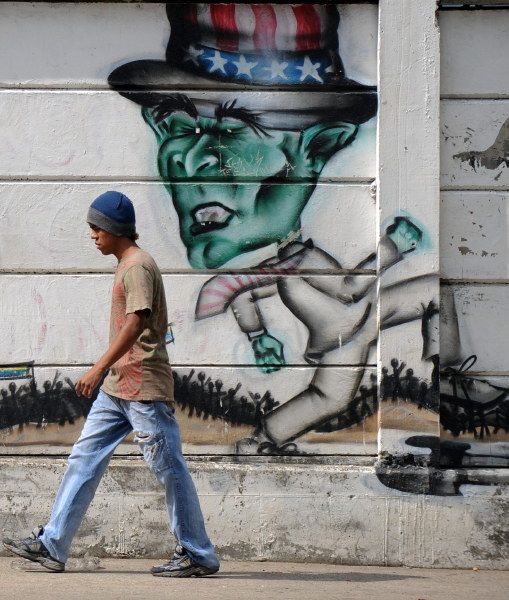 "The Embassy of Russia has officially requested that a government delegation come to Moscow to discuss cooperation in anti-drug efforts," Felipe Caceres, Bolivia's drug czar, told The Washington Times in a telephone interview Thursday.
"There are two kinds of support we are talking about. First is support for officials and personnel, and the other is the possible use of high-altitude helicopters."
Tensions between Bolivia and the United States neared the breaking point this month, when dozens of people were killed in a battle between loyalists and opponents of the government of leftist President Evo Morales for control of natural gas exports.
Bolivia and the U.S. have expelled each other's ambassadors, and the U.S. has begun evacuating nonessential personnel from its embassy in La Paz amid bloody battles that pitted Morales supporters - mostly Indians from the nation's eastern highlands - against Bolivians of European descent in the energy-rich east.
As the battles raged, the Bush administration "decertified" Bolivia as a nation cooperating in the U.S.-led war on drugs, putting up to $30 million in U.S. aid in jeopardy.
Mr. Caceres said proposed cooperation with Moscow was not intended as a slight to the U.S. and that Bolivia welcomes help "from any state that does not put conditions on us."
In recent years, Russia has stepped up its outreach to Latin America, as has China and, to a lesser extent, Iran. Efforts typically include foreign aid, joint ventures to develop energy resources, technology transfers and weapons sales - developments that defy centuries of U.S. domination of the Western Hemisphere under what is known as the Monroe Doctrine.
The Russian quest for influence follows elections of leftist leaders with strong anti-American credentials in Bolivia, Ecuador, Nicaragua and Venezuela.
The U.S. denies its influences in Latin America are on the decline.
"We believe that, the behavior of leaders of a couple of these countries notwithstanding, that overall the cooperation in the hemisphere is becoming greater between the United States and other countries in the hemisphere, and that overall the trend lines are positive," State Department spokesman Sean McCormack said Thursday.
This week, a top Russian delegation visited Cuba, Venezuela and Nicaragua to discuss technology transfers, energy joint ventures and diplomatic gestures that analysts say are designed to irritate Washington.
On Monday, Russian Vice President Igor Ivanovich Sechin arrived in a hurricane-battered Cuba where Moscow had sent humanitarian aid, according to Cuba's State News Agency.
A day later, the Russian delegation announced that it intends to share its space technology with Cuba and that both countries are in talks to build a space center on the island nation, according to Russian news agency RIA Novosti.
Wire reports quote officials saying that Moscow and Havana want to share remote-sensing satellites, space-based telecommunication systems and Cuba's Glonass satellite navigation system.
Also this week, Russia deepened links with oil-rich Venezuela, whose president, Hugo Chavez, has referred to President Bush as the devil.
In solidarity with Bolivia, Venezuela also expelled its U.S. ambassador this month and the U.S. reciprocated.
When the Russian delegation visited Venezuela this week, the two countries pledged to deepen cooperative programs involving oil, weapons and technology.
The arrival of two Russian bombers in Venezuela for joint military exercises more than a week ago marked a development not seen since the Cold War. The nuclear-capable bombers departed for Russia on Thursday.
Mr. Chavez plans to visit Moscow on Monday for the second time in two months, and the two countries plan to hold joint naval exercises in the Caribbean later this year.
In July, three Russian oil companies signed exploration deals with Venezuela, one of the world's largest untapped pieces of oil real estate.
Sergei Chemezov, of Russian state holding company Rostekhnologii, told Russia's Interfax news agency that Venezuela is also in talks to buy Russian air defense systems and armored tanks.
Oil-rich Venezuela has already bought $4 billion in arms from Russia, including 53 combat and troop transport helicopters.
The Russian delegation also visited Nicaraguan President Daniel Ortega on Wednesday to discuss bilateral energy deals. Besides Russia, Nicaragua is the only country to formally recognize the Georgian provinces of South Ossetia and Abkhazia as independent nations.
"We're increasing our presence in Latin America - the countries in the region themselves want this," Russian Foreign Ministry spokesman Igor Lyakin-Frolov told Bloomberg News in an telephone interview.
Russia isn't alone.
China has also expanded its presence in the region, with massive energy and infrastructure deals, especially with Venezuela, as has Iran. China's investments in the region appear to be driven more by commercial interests such as the need to obtain energy and other resources for future generations, analysts said.
In contrast, anti-American rhetoric has tinged reciprocal visits by Mr. Chavez and Iranian President Mahmoud Ahmadinejad to each other's capitals.
Russia appears to be somewhere in between.
"I don't expect to see more than meddlesome, symbolic displays from Moscow," said Riordan Roett, a Latin America analyst at Johns Hopkins University.
Michael Shifter, vice president for policy at the Inter-American Dialogue, agreed.
"There's not a direct interest for Russia in stemming coca production," he said. "This has to be seen in political terms. From the Russian point of view, this is a response to what the U.S. is doing in the Black Sea."
• Martin Arostegui contributed to this report from Santa Cruz, Bolivia.