Bolivian rivals begin peace talks
Bolivian President Evo Morales has begun talks with opposition leaders in a bid to defuse a political crisis in the country.
September 18, 2008 - BBC
Tight security surrounds the talks in Cochabamba, central Bolivia.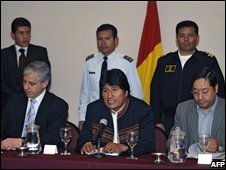 (right) President Morales's draft constitution will not be discussed at the talks
Observers from the Organisation of American States and the UN are monitoring the negotiations. Long-standing political unrest erupted into violence last week as Mr Morales struggled to assert his authority in the east of the country.
An agreement which led to the talks was made on Tuesday. In it, provinces whose governors oppose Mr Morales's left-wing reforms are to return to order. There is also to be an impartial inquiry into the killing of 16 pro-government farmers in the northern region of Pando, the government said.
Land reforms
Rival groups have agreed to avoid discussing a draft constitution - which Mr Morales wants to rewrite - during the talks. Governors opposing Mr Morales want him to abandon land reforms and recognise their ambitions for autonomy.
They also want to have more control over natural gas revenues in their areas. Mr Morales says he wants to natural gas revenues to re-distribute Bolivia's wealth and give a greater voice to the country's large indigenous community.
"This may be the last chance to solve the country's problems in peace," said Mario Cossio, governor of the southern Tarija province, as he arrived at the talks.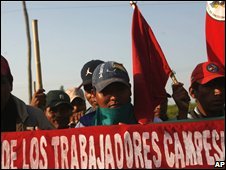 (right) The president's supporters have been out in force. Morales supporters march in Sugal, Bolivia
Ruben Cuellar, an assembly delegate for the opposition Podemos party, said: "Granting autonomy means revising a host of issues in the constitution from land reform to health."
Talks between the two sides disintegrated eight months ago, and violence flared in recent weeks. At least 30 people have been killed, mainly in the Pando region where Mr Morales declared a state of emergency last week.
Its governor, Leopoldo Fernandez, was arrested on Tuesday and transported to La Paz. He is accused of hiring the hitmen who killed farmers on their way to a pro-government rally. He denies the charge.
As many as 100 people are reportedly still missing after the recent violence. However, the fighting has now subsided and some blockades were lifted after the latest talks were agreed.