Bolivian leader slams U.S. at UN
September 23, 2008 - canada.com (Reuters)
by Patrick Markey , Reuters
Published: Tuesday,
UNITED NATIONS - Bolivian President Evo Morales, confronting a political crisis at home, criticized the United States on Tuesday for backing opponents he charges are trying to organize a coup against his leftist government.
Morales, a close ally of Venezuela's anti-U.S. leader, Hugo Chavez, expelled the U.S. ambassador earlier this month after accusing Washington of fomenting violence against him in Bolivia, one of South America's poorest nations.
"I would like to hear representatives of the U.S. government rejecting these acts of terrorism," Morales told the UN General Assembly in a speech laced with anti-imperialist rhetoric. "But you know, they are allies, of course they will never condemn this."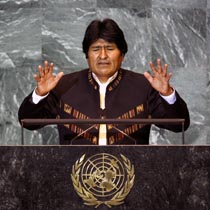 (left) Bolivian President Evo Morales: 'We don't want relations of intervention and conspiracy.' (photo: Andrew Harrer/Bloomberg News)
South American leaders plan to meet Wednesday at the United Nations for talks on easing the crisis between the Morales government and opposition governors who have balked at signing a preliminary agreement aimed at ending violence.
Tensions erupted into clashes earlier this month when anti-Morales protesters took to the streets, occupied government buildings and sabotaged gas pipelines. At least 18 people were killed in fighting.
Washington called the expulsion of its ambassador a grave error and expelled the Bolivian ambassador. Morales told reporters later he was open to dialogue on U.S. ties, but would wait for Washington to "correct" the behavior of past envoys.
"We don't want relations of intervention and conspiracy," he said.
The country's first indigenous president, Morales promises sweeping reforms in a new constitution in Bolivia, where an Indian majority says its rights have been neglected for decades by European-descended ruling elites.
But critics in the opposition heartland - in eastern provinces - say Morales wants to install Cuban-style communism in Bolivia.
Morales urged his opponents to accept the new constitution or oppose it at the ballot box in a referendum.
Bolivia has long been divided between Andean mountains in the west where many people still speak Quechua and Aymara as their first language, and more affluent eastern plains where governors want more autonomy and control over gas wealth.
Morales won regional backing at a recent summit in Chile when South American presidents condemned violence. Tensions have simmered since August when a referendum confirmed his presidency but also the posts of opposition governors.