Prostitutes in Bolivia threaten nude march over morals campaign
October 20, 2007 - Agence France-Presse
LA PAZ (AFP) — Hundreds of outraged prostitutes are ready to fight a morality campaign targeting their trade by marching nude in the streets of Bolivia's capital, a spokeswoman said Thursday.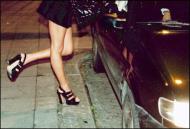 (left) A prostitute talking to a motorist
The threat comes after angry mob on Wednesday destroyed bars and brothels in El Alto, a suburb near La Paz.
After the violence, authorities decided to close more than a thousand houses of prostitution in El Alto.
Lily, speaking on behalf of the prostitutes, warned that prostitutes would "march nude in the streets of La Paz" and threatened to forsake checks from health authorities.
"Our businesses are burned and we are left in the street, our money is stolen and we are beaten," Lily told local television, adding "they want to deprive us of our source of income."
Local press reported a prostitute was beaten by the mob on Wednesday, stripped of her clothes and robbed of some 300 Bolivianos (40 dollars), her earnings for the night.
For three days, about 30 bars and more than a dozen brothels have been ransacked and furniture torched, said Ronald Perez, a security official.
Organizers of the morality campaign have demanded the mayor close several hundred illegal brothels and enforce a ban on minors visiting them. The activists have also called for ensuring the houses of prostitution operate a good distance from churches, schools and hospitals.
The police have sent in reinforcements to the turbulent area but the campaign has spread to other towns and provinces.