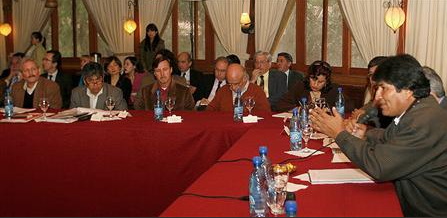 (above) Bolivia's President Evo Morales (R) meets with governors in Cochabamba October 5, 2008.
(Photo: REUTERS/Bolivian Presidency/Handout)
Bolivian crisis talks end without a deal
October 6, 2008 - Reuters


COCHABAMBA, Bolivia (Reuters) - Leftist Bolivian President Evo Morales and a block of opposition governors failed to reach an agreement on Sunday aimed at easing political tensions that sparked deadly clashes last month.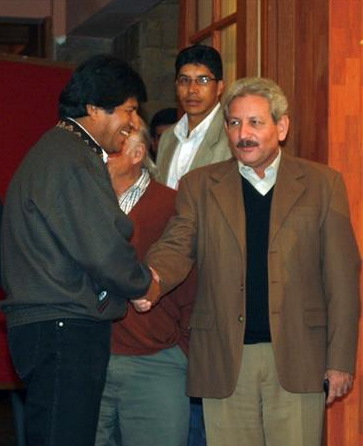 (right) Bolivia's President Evo Morales (L) shakes hands with opposition Santa Cruz
Governor Ruben Costas after meeting in Cochabamba, October 5, 2008.
(Photo: REUTERS/Bolivian Presidency/Handout)
The conflict between Morales, the impoverished country's first Indian leader, and governors demanding more autonomy and opposed to his anti-capitalist and pro-Indian reforms sparked clashes in which at least 19 people were killed, most of them Morales supporters.
The unrest shook four provinces run by rightist politicians where anti-Morales groups raided public buildings, attacked energy facilities and blocked roads.
Agriculture Minister Carlos Romero, speaking after the 10-hour meeting in central Cochabamba province, blamed the governors for failure to reach an agreement, but acknowledged the government had agreed to a few opposition demands for increased autonomy.
"That they didn't sign on only means they have a political agenda," he said.
Morales left the meeting without talking to reporters.
Mario Cossio, the governor of the gas-rich Tarija region who spoke on behalf of the four opposition governors, said he hoped the failed talks would not mark a return to violence.
"These democratic differences do not mean an opening of a cycle of confrontations and violence," he said.
Cossio said that there had been "serious disagreements" regarding the governors' demands for more autonomy and a larger share of the country's booming energy revenues.
A fifth opposition governor was arrested last month accused of being responsible for the deaths of at least 15 Indian peasants in the northern Pando province during the clashes.
The talks started in mid-September, but hit a snag late last month when the opposition asked for significant changes to a draft constitution approved last year in an elected assembly they had boycotted.
"We never suggested we should draw up a new constitution. We proposed that it was imperative that we discussed a host of issues," said Cossio.
The government has said it refuses to bow to the governors' demands on the new charter because they say they only represent "a minority". There are nine provinces in Bolivia.
Morales says the new constitution is a tool to grant more rights to the long-neglected Indian majority, but the governors want the charter rewritten, saying it would allow the president to amass too much power.
The government has vowed to send a bill to Congress to allow for a referendum on the draft constitution to take place in the coming months and Morales has said he wants to call for a general election after the Constitution is approved.
Although Morales won an August recall vote with 67 percent of support, the bulk of the opposition governors also achieved sweeping victories in their constituencies.
Morales' power base is among poor Indians in the western highlands but his leftist reforms are unpopular among mixed-raced people in relatively wealthier regions governed by the opposition.
(Reporting by Danilo Balderrama in Cochabamba and Carlos Quiroga in La Paz; Writing by Eduardo Garcia; editing by Anthony Boadle)