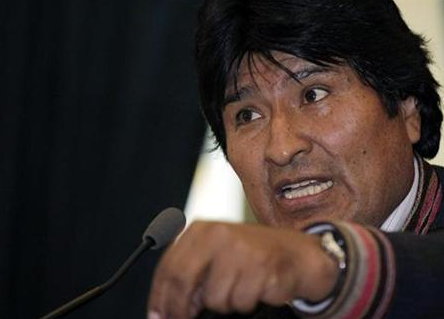 (above) Bolivia's President Evo Morales speaks during a news conference at the
presidential palace in La Paz November 27, 2008. (Photo: REUTERS/Gaston Brito)
Bolivia calls U.S. trade move "political vengeance"
November 27, 2008 - Reuters

By Carlos Quiroga
LA PAZ (Reuters) - Bolivian President Evo Morales accused the United States on Thursday of "political vengeance" for suspending the Andean nation's special trade benefits on grounds that it has not cooperated in fighting drugs.
Morales cited U.N. data to assert that Bolivia did a better job than Colombia and Peru in controlling the cultivation of coca, the main ingredient used to make cocaine.
Those two countries and Ecuador continue to benefit from the Andean Trade Preference Act and the Andean Trade Promotion and Drug Eradication Act, ATPA and ATPDEA, which grant most of their goods duty-free status for entry into the United States.
"It's totally false that the Bolivian government did not comply," Morales told a news conference.
He said U.N. reports showed coca crops had expanded to cover nearly 250,000 acres in Colombia in 2007 and more than 124,000 acres in Peru, while in Bolivia coca-growing area was roughly stable at 69,200 acres.
Bolivia is the world's No. 3 cocaine producer, after Colombia and Peru.
"We complied better than Colombia and Peru," said Morales, a former leader of coca farmers. "Those are the facts but this is political vengeance because we don't agree with capitalism, provoked wars ... or the free market."
The U.S. trade benefits for Bolivia will formally be suspended on December 15, affecting the $363 million worth of Bolivian exports shipped to the United States last year.
Bolivia has rejected the U.S. approach of forcibly eradicating coca crops, saying it only leads to violent clashes, opting instead for a program that encourages coca growers to limit their production for legal, traditional uses.
The country's Indian population uses coca leaves in religious ceremonies and chews them or brews tea with them to ward off altitude sickness.
The U.S. government first warned it could strip Bolivia of these trade benefits in September after Morales kicked out the U.S. ambassador on charges he had fomented violent protests by the political opposition.
Washington responded by expelling Bolivia's emissary.
Morales reiterated on Thursday his willingness to improve U.S.-Bolivian relations once U.S. President-elect Barack Obama takes office but "only if we are respected because Bolivia has been humiliated."
(Writing by Hilary Burke; Editing by Bill Trott)