Bolivia declares literacy success
December 21, 2008 - BBC.com

A 30-month campaign to teach thousands of poor Bolivians to read and write has made the country "illiteracy free", President Evo Morales has declared.
The "Yes I can" campaign, designed by Cuba and paid for by Venezuela, has helped more than 800,000 Bolivians.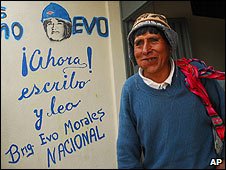 (right) Man walks past mural thanking Evo Morales for literacy campaign
Literacy lessons were held in Spanish, Aymara and Quechua
Under Unesco standards, a country can be declared free of illiteracy if 96% of its population over the age of 15 can read and write.
In 2001, a census found nearly 14% of Bolivians were illiterate.
Cuba was declared illiteracy-free in 1961 and Venezuela, under Hugo Chavez, reached the standard in 2005.
It is the first time Bolivia has become "illiteracy free".

But political opponents of President Morales, who came to power in January 2006 as the country's first indigenous leader, dismissed the announcement as a political propaganda.
Many in the oil and gas-rich east say Mr Morales is a puppet of Venezuela's President Chavez, who is trying to impose his brand of indigenous socialism on them.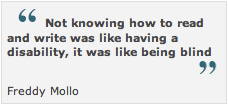 The country, which correspondents say is deeply divided between rich and poor, between indigenous and non-indigenous, between east and west, will vote on a new constitution in January that Mr Morales says will empower the indigenous majority.
Spread the word
Thousands of poor people of Andean origin turned out in the central city of Cochabamba to hear the president's announcement.
"I would like to thank, in the name of the Bolivian people, of the national government, and personally, every Bolivian, Cuban and Venezuelan brother who made the effort to declare Bolivia, the third country in Latin America free of illiteracy," Mr Morales said.
Most of the literacy classes were in Spanish, but there were also successes teaching people to read and write Aymara and Quechua.


(right) Evo Morales (left) urges Paraguay will follow its lead
Classes were open to people of all ages.
Freddy Mollo, 43, said that "not knowing how to read and write was like having a disability, it was like being blind".
Daria Calpa, 62, of Potosi, said: "I couldn't even draw a line. I had never been to school. Now I have learned to read and write in Quechua and I feel like a real person. Before I didn't."