James Bond angers Chile by filming Quantum of Solace in Bolivia
March 31, 2008 - Mirror.co.uk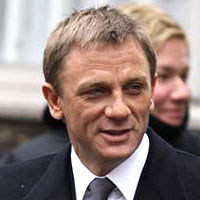 (right) Daniel Craig (mrpaparazzi.com)
James Bond has left the locals in South America shaken after stirring up bitter old rivalries on the set of his latest film.
Daniel Craig's outing as 007 in Quantum of Solace sees him visit Bolivia - but it is being filmed in neighbouring Chile.
The problem is the well-off Chileans look down on the poorer Bolivians and were outraged to see Bolivian flags and uniforms in the city of Antofagasta.
Antofagasta was conquered by Chile in 1879 with Bolivia losing access to the sea and they have been bitter enemies since.
A protest in a local paper read: "Chile is Chile. We aren't Bolivian indians. Imperialist British out."
As filming started, Bolivian militants skirmished with Chilean frontier guards.
007 producers said: "We concluded that Chile didn't serve in the plot and opted for Bolivia."
Antofagasta mayor Daniel Adaro added: "They are filming in Chile because it's more modern."