State Autonomy Vote May Reshape Bolivia
May 4, 2008 - Washington Post
Territories Resist President's Socialism
By Monte Reel
Washington Post Foreign Service
Sunday, May 4, 2008; p A21
SANTA CRUZ, Bolivia, May 3 -- The dates on a 20-foot-high countdown calendar that hangs in this city's main square do not go past Sunday, when voters decide whether their state will declare autonomy from Bolivia's central government.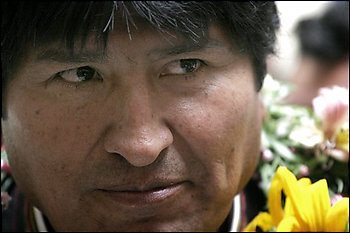 (left) Bolivia's President Evo Morales attends an indigenous ceremony at the presidential palace in La Paz, Wednesday, April 30, 2008. (Joao Padua - AP)
What comes after May 4, much like the political balance of power in Bolivia, is a blank space waiting to be filled in.
In a country where ideological violence has repeatedly filled political vacuums, the uncertainty has some here gearing up for confrontation.
"We are not going to give in -- we will fight," said Elena Fanny Flores, a supporter of President Evo Morales who rallied against the autonomy referendum Friday. "I'd rather die than defend this autonomy statute."
Polls suggest that voters will approve the autonomy declaration, placing the biggest obstacle yet in front of Morales's increasingly beleaguered attempt to "re-found" South America's poorest country on socialist principles.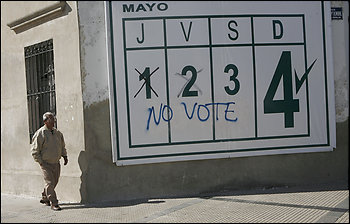 (left) A sign in Santa Cruz marks the date of a referendum on whether to try to wrest control of most state finances from Bolivia's central government. (By Dado Galdieri -- Associated Press)
Five more of the country's nine states -- including all of those in the eastern lowlands that produce most of the country's income -- are considering similar referendums in coming months. They seek more control over locally generated revenue and property titles that Morales aims to redistribute to the poor. Morales, the son of a llama herder of Aymara Indian descent, was elected on a platform promising to give more voice to the majority of Bolivians who identify themselves as indigenous.
The eastern lowlands include more people of European descent than the highly indigenous western highlands, and Morales's backers have accused the autonomy movement of being fueled by racism. Many of the Santa Cruz residents who express support for autonomy say the vote is not only about administrative control of local resources but also represents an affirmation of a national identity that has little in common with the culture that Morales champions.
"Why should we be Evo's servants?" asked Ana Maria Kronenbol, one of thousands of people gathered at a pro-autonomy campaign this week. "This is unacceptable, and our time has arrived."
Morales has dismissed the referendum as little more than a nonbinding public opinion poll. But the television ads and fliers distributed by his supporters in the days before the vote clearly show that the government takes the issue very seriously. They accuse wealthy landowners in Santa Cruz of using the referendum to try to squash Morales's plan to break up large agricultural plots and give more property to landless farmers. It is an illegal attempt to tear the country apart, they said.
"The autonomy statute has as its center of gravity the attempt to exercise absolute control over the policy of landownership in the region," said cabinet chief Juan Ramón Quintana, who traveled to Santa Cruz on Friday and denounced the vote. "It is an explicit move to try to create an independent state."
The leaders of the autonomy movement deny that. They say they simply want more local control over taxes, the courts, property titles and police forces. An autonomous Santa Cruz would remain a part of Bolivia, and its institutions would still be connected to those of the national government.
Branko Marinkovic, a leader of the autonomy drive, said he expected that local leaders would negotiate with Morales's government after the vote to determine how strong those connections would be.
"It's a new path, and one where we will have to work toward a consensus and have a lot of dialogue," said Marinkovic, president of the Santa Cruz Civic Committee. "It's not going to be a short road. But hopefully it will the easiest and fastest possible course for Bolivia to develop and get the investments it needs to reduce poverty, more than anything else."
If the referendum passes, many analysts say, the leaders of Santa Cruz -- as well as the other states planning referendums -- could gain considerable bargaining power in those negotiations.
"The government won't really have a way out of this -- they'll have to negotiate and talk about how a new Bolivian state, including the autonomous regions, will function," said Gonzalo Chávez, a political analyst at Catholic University in La Paz. "And that's a complicated process that could take a lot of time, maybe months or years."
The cornerstone of Morales's presidency has been an effort to rewrite the constitution, but that process has been mired by infighting. Late last year, Morales's supporters passed a rough draft of a new document without any members of the political opposition present, an act that sparked deadly street protests.
The difficult negotiations that followed led directly to this weekend's referendum.
Some fear that the years of built-up frustration could spill into the streets Sunday. Both sides have vowed that they won't start a fight, but it's not hard to find evidence of a combative edge to the conflict. Buildings all over the city are covered with graffiti that speaks the words few Cruceños -- the term for people from this region -- are saying aloud:
"Resist or Die!"
"To Your Guns, Cruceños!"
"Evo Morales Will Die in Santa Cruz."
At a rally Friday, about 3,000 people -- many of them waving indigenous flags -- railed against the referendum, handing out fliers that compared the leaders of the autonomy movement to members of the Ku Klux Klan.
"They will be killing us -- the indigenous -- with this statute," said Alejandro Antezana, who opposes autonomy. "We are going to fight to the death if we have to. We are not going to let them set up their ballot boxes this Sunday, even if that will lead us to confrontation and bloodshed. We have too much to lose."
But on the eve of the vote, Santa Cruz looked nothing like a city on the brink of chaos. Leo Alvarez, a shoeshine man in the city's main square, watched the feet of hundreds of passersby as the day wore on. All walked calmly. A few even danced.
"It's more like a party than a revolution," Alvarez said. "That's the way it is in Santa Cruz."
Special correspondent Andres Schipani contributed to this report.