Autonomy vote leaves Bolivia's battles unresolved
May 7, 2008 - Post-Bulletin (Rochester, MN) [AP]

By Dan Keane, Associated Press
SANTA CRUZ, Bolivia -- Residents of Bolivia's wealthiest state on Monday welcomed a landslide vote for greater autonomy as a historic shift, even as the Andean nation's long-standing political battles remained unresolved.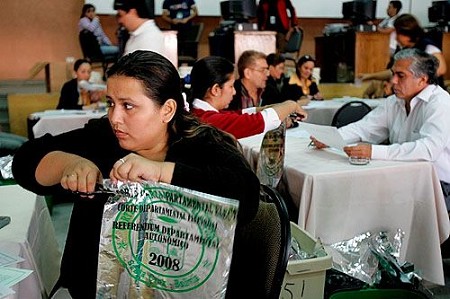 (left) Bolivia election: Election workers count ballots Monday in Santa Cruz, Bolivia. (Photo: Jorge Saenz/Associated Press)
Sunday's referendum on greater independence from Bolivia's leftist central government seemed at times more like a hometown pep rally than a contested ballot. It was organized by Santa Cruz's pro-autonomy state government, monitored by few international observers and boycotted by supporters of President Evo Morales.
And what self-rule may eventually look like remains far from clear.
"Obviously, it's very important on a symbolic level. But that's the only level where Bolivia's political fight is currently taking place," said Fernando Molina, editor of the Bolivian newsweekly Pulso. "To convert (the autonomy declaration) to reality will be a big stretch."
The referendum's result -- early returns show that more than 80 percent of Santa Cruz voters embraced the autonomy measure -- has bolstered Bolivia's decentralization movement. The nation is bitterly divided between a pro-indigenous central government with a socialist vision and a handful of wealthier states where mixed-race governments back pro-market policies.
Three eastern states neighboring Santa Cruz will hold similar autonomy votes next month, and two others are considering a similar move.
Morales -- who is pushing for a new constitution to grant Bolivia's long-oppressed, indigenous majority greater power -- called for negotiations with the states to save the draft constitution. But pro-autonomy groups refused to recognize its framework.
Santa Cruz has felt isolated from the highland capital La Paz ever since Bolivia's 1825 founding. Now a stronghold of the conservative opposition, the state has converted its long-standing desire for self-rule into a national campaign to block Morales' populist reforms.
Locally, Santa Cruz leaders want to keep a bigger slice of the state's natural gas revenues to keep up with its booming population. Its powerful business class also hopes to shelter large soy plantations and cattle ranches from Morales' land redistribution plans.
On a national level, Santa Cruz residents hope to block Morales' proposed constitution, which they say ignores their demands for states' rights.
Morales, the country's first indigenous president, says he needs a strong central government to spread Santa Cruz's wealth through the rest of Bolivia, South America's poorest country.
Late Sunday, Santa Cruz residents drove through the state capital's streets, honking and cheering in celebration. Gov. Ruben Costas declared the vote had "begun the most transcendental reform in national memory."
The statutes up for approval on Sunday would establish local powers common in many countries, including a state legislature and police force. But the more ambitious clauses bear the distinct ring of nationhood: control over land distribution and the right to sign international treaties, among others.
Morales called the measure illegal, unconstitutional and dictatorial, and in a television address congratulated groups of demonstrators for taking to the streets to block the vote. Their clashes with autonomy supporters -- both sides fighting with sticks and stones -- injured at least 25 people across Santa Cruz state.
Santa Cruz leaders insist they have no intention of seceding -- a move that would find little support on a continent packed with Morales' leftist allies.
But the state's fervor for self-rule is something Morales cannot wish away.
"Bolivia is a literary figure, a state identity and nothing more. What matters is the true identity of the people," said Sergio Antelo, founder of the Camba Nation, a group named after a popular term for Santa Cruz residents. "First we're Cambas. Then we're Bolivians."
Morales has called for talks on autonomy with Bolivia's nine state governors. But nationally televised negotiations held in January went nowhere.
"It wouldn't be anything out of this world if conflict were just to continue," Molina said. "I mean, look at Palestine. They've been at it thousands of years."