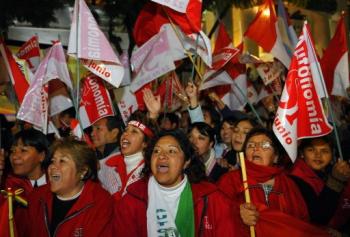 (above) People in Tarija celebrate after the province voted in favor of greater autonomy
Bolivian governors reject President Morales' referendum
June 24, 2008 - AFP
LA PAZ (AFP) -- Five of Bolivia's nine governors on Monday rejected President Evo Morales' August 10 referendum pitting his office against theirs, calling instead for early elections to settle an autonomy issue dividing the nation.
Energy-rich Tarija province on Sunday overwhelmingly voted for greater autonomy from the central government, following similar referendums in Santa Cruz, Beni and Pando, which Morales has blasted as illegal and separatist.
Fearful of a split in Bolivia between the energy- and farming-rich lowlands and the poor Andean highlands, Morales in May called for the August referendum for Bolivians to choose between himself and his vice president or the rebel governors.
The four rebel provinces plus Cochabamba, whose governor has been unable to stir his province into holding its own referendum, have rejected Morales' plebiscite "unless it complies with the autonomy statutes that have been approved" recently, they said in a statement late Monday.
The five governors asked Morales to put together a "great agreement" at the national level on their autonomy proposals, otherwise "call for a general election so the people can decide" on the current political crisis.
Morales' tenure, along with that of his vice president Alvaro Garcia Linera, formally ends in January 2011, but they could be forced out if new elections are held or if they should lose the August referendum by getting less than 53.74 percent of the vote -- their margin of support in December 2005 elections.
The provincial referendums were held in response to a drive by Morales, Bolivia's first indigenous president, to give more of the country's wealth and land to his fellow Indians, many of whom live in poverty in the western Andes mountains.