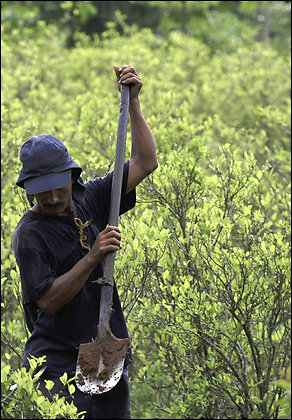 (above) A worker uproots a coca plant as part of a manual eradication effort of fields in northwest Colombia. (Photo: William Fernando Martinez -- Associated Press Photo)
Coca Cultivation Rises In Colombia, U.N. Says
Increase Found Despite Eradication Effort
June 19, 2008 - Washington Post


By Juan Forero, Washington Post Foreign Service
BOGOTA, Colombia, June 18 -- The amount of land devoted to production of coca, the leaf used to make cocaine, has grown at a dramatic pace in Colombia despite a huge American-funded counter-drug program of aerial fumigation and aggressive interdiction, a U.N. agency said Wednesday.
In a 132-page report based on satellite imagery and on-the-ground surveys, the United Nations' Office on Drugs and Crime said that Colombian farmers planted 245,000 acres of coca last year, 27 percent more than in 2006. Coca cultivation in the world's three top producers, Colombia, Peru and Bolivia, increased 16 percent, to 448,743 acres, a swath of land slightly smaller than Delaware.
"The increase in coca cultivation in Colombia is a surprise and shock," Antonio Maria Costa, director of the Office on Drugs and Crime, said in a statement. "A surprise because it comes at a time when the Colombian government is trying so hard to eradicate coca; a shock because of the magnitude of cultivation."
The findings follow almost eight years of heavy aerial fumigation of drug crops in Colombia, an American-designed strategy that has cost more than $5 billion. That program includes military assistance that has helped Colombia's army weaken the Revolutionary Armed Forces of Colombia, a peasant-based rebel group that has funded its war against the state in part through the cocaine trade.
President Álvaro Uribe's government has also disarmed thousands of fighters belonging to a right-wing anti-guerrilla group, which at one time was the leading trafficking cartel in the country.
In a telephone interview, John P. Walters, the White House drug czar, said American aid in the form of funding, advice and training for Colombia's security forces has helped stabilize a close ally and disrupt cocaine smuggling to the United States.
"The power to do terror, and to put Colombians and others at risk, is weaker and weaker than it was five years ago," he said. "The situation for all of us is better."
Walters said he believed that the U.N. estimate on coca cultivation could be higher now because improvements in its survey methodology might have permitted detection of coca fields that went unnoticed in the past.
ad_icon
U.S. coca production estimates, which are based on different methodology, showed 388,449 acres in 2006, nearly as much as in 2001, the first full year of intensive aerial spraying. American estimates for 2007 are due in August. Some drug policy analysts said that the latest U.N. figures demonstrate that the U.S. anti-drug onslaught has failed to deliver, and that Washington should change course if it hopes to wean poor farmers from drug crops and permanently dismantle the cocaine trade. The dumping of herbicides on drug crops in Colombia, the only South American country that permits the practice, has prompted farmers to abandon large fields for smaller, harder-to-find plots, analysts said.
"Forced eradication, including aerial spraying, only guarantees more replanting," said John M. Walsh, who studies the drug war for the Washington Office on Latin America, a policy analysis group. Walsh said the focus should shift to improving infrastructure and helping the poor farmers who grow the coca crops move into other, legal crops.
"The easy pickings in terms of spraying coca in Colombia are over, and for there to be progress beyond this plateau there needs to be an alternative livelihood," Walsh said.
The data in the U.N. report are sobering.
Cocaine production in the Andes, at 994 metric tons in 2007, is higher than it was in 2001. In Peru and Bolivia, coca cultivation has been steadily rising in recent years, to the point where land devoted to the leaf is nearly at the levels of the late 1990s.
In Colombia, homicides went up slightly last year after a four-year decline, and the U.N. refugee agency said this week that more than 3 million people here have fled their homes because of a long, simmering war.
Markus Schultze-Kraft, Latin America director for the International Crisis Group, a Belgium-based organization that studies the conflict here, said that while rebel groups here may be weaker than before, the drug trade continues.
"There's a reshuffling in the criminal underworld," Schultze-Kraft said. "Since the business is there and continues to be lucrative, and is on the rise in terms of volume and trafficking, there definitely are enough criminal actors in Colombia that are there to pick up the game."