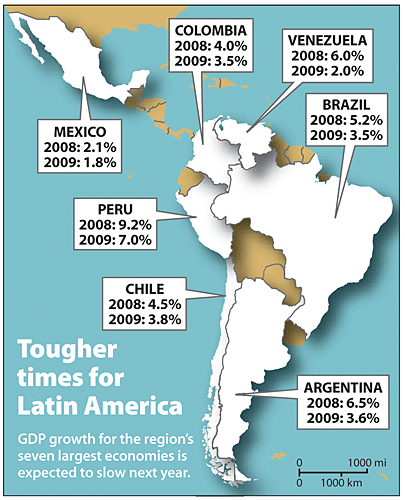 Latin America better girded for financial crisis
The region is affected by global downturn, but more prepared this time thanks to greater foreign reserves and less external debt.
October 24, 2008 - Christian Science Monitor

By Sara Miller Llana - Staff writer and Andrew Downie - correspondent
Mexico City and Sao Paulo, Brazil - As leaders in Washington rushed to stem the growing financial crisis in the United States, Latin American leaders thought they'd be unscathed. Brazil's president, Luiz Inácio Lula da Silva, when asked what repercussions he expected at home, retorted, "What crisis?" Venezuelan President Hugo Chávez called it the "crash of capitalism."
A few weeks later, the tone has changed remarkably for a region heavily dependent on the international prices of minerals, crude oil, and food-- all of which have taken a hit-- not to mention remittances, tourism, and investment.
Stock markets across the region are falling. Argentina's has sunk 20 percent since Tuesday. Brazil's dropped 10 percent Wednesday; Mexico's, 7 percent; Chile, 6 percent.
Mexico and Brazil, the region's two largest economies, spent chunks of their federal reserves to stem unexpected currency declines. Mexico introduced an emergency stimulus package, while Brazil offered $2 billion in loans to exporters through local banks. The era of uninterrupted economic growth and fiscal surpluses, it seems, could be on the wane.
Yet even as nations await the full impact of a crisis that is reaching every corner of the world, Latin America is better placed today to weather the downturn than at any other time in the past half century, says Gray Newman, senior Latin America economist at Morgan Stanley in New York. Countries in the region have, overall, kept spending within budget and built up their currency reserves. Many have solved external imbalances and adopted flexible exchange-rate systems.
"Faced with a global downturn the region's largest economies are likely to face a relatively normal business cycle rather than a fully fledged crisis," says Mr. Newman. "That is good news and represents a graduation from the past for some countries in the region."
Still, the region will have to readjust after years of steady growth. Average annual growth rates across Latin America-- at 5.1 percent from 2004 to 2008-- are expected to fall hard, with expectations for next year at just 2.8 percent, according to Rahul Ghosh, head of Latin American country risk and financial markets at Business Monitor International in London.
Commodities prices are a key reason. The metals, grains, and livestock that South America sends around the world, particularly to China, helped push Latin America to five years of unstinting growth. Trade surpluses that averaged almost $100 billion a year between 2004 and 2008 are likely to fall to around $23 billion next year, according to a Morgan Stanley report.
The nations that have worked to get their economies in order-- such as Brazil, Chile, and Peru-- are among the best placed to keep growing next year.
Argentina, Venezuela, Bolivia, and Ecuador are expected to face tougher times-- both because they are dependent on commodity exports, says Alfredo Coutino, a senior economist for Latin America at Moody's Economy.com, and because of greater needs for external financing.
On Tuesday, President Cristina Fernandez de Kirchner in Argentina sent a bill to Congress with a plan to nationalize the country's $30 billion private pension system, in an effort she said was to protect retirees in the midst of the financial crisis.
The nation most directly affected by the US economy is Mexico, where more than 80 percent of exports head north, and where remittances represent one of the most important sources of income. Already, signs of trouble have surfaced in Mexico. The peso has plunged more than 20 percent this month after years of stability. Growth is now estimated at less than 2 percent for 2009.
President Felipe Calderón introduced a $4.4 billion "emergency spending" plan for a new oil refinery, infrastructure, and new hospitals and schools to stimulate job growth. He remained optimistic despite the problems. "Once these difficult moments pass, our economy will be stronger, will generate more jobs, and will grow more quickly," he said.
It is optimism that Mr. Coutino shares. He says Mexico has taken proper measures such as reducing its external debt and accumulating sufficient foreign reserves, unlike in past crises. "The big difference with past crisis episodes is that Mexico is in a better macroeconomic situation now. They are not going into recession," he says. "They do have resources they didn't have in past crises."
That is true across the region. In the past, Latin American economies were so tied to the US that when crisis hit there, the rippled effects were felt across the continent, in sales, income, and most noticeably in gross domestic product.
But nations such as Brazil have decoupled in recent years. Business Monitor International forecasts that only 14 percent of Brazilian exports in 2008, for example, will head to the US. For Brazil, Argentina, and other nations in the region, demand in Asia has been a buffer.
Over the weekend chief bankers from across the region met in Santiago, Chile, to address the regional impact. In a joint statement they said: "We're in better shape to face the financial turbulence, thanks to solid economic fundamentals."
Still, Newman cautions, some countries are being too optimistic. Argentina, Brazil, and Colombia, for example, still expect less than 4 percent growth next year, according to the International Monetary Fund; Newman estimates all will be closer to 2 percent.
The past half decade in Latin America has been one of boom times. Venezuelan President Hugo Chávez has been able to pour billions into social programs for the poor across his country and sent oil at subsidized rates around the rest of the region with oil windfalls. Lula has been able to tackle poverty, increasing the social spending budget fourfold in 2008.
Now the equation is changing. Oil prices, from highs of around $147 a barrel in July, has fallen to less than half that amount. The fall robs nations like Venezuela, Mexico, Bolivia, and Ecuador of much-needed cash, and many are being forced to adjust future spending.
"What I would say is that this is the first real test for Lula and Chávez," says Mr. Ghosh. "This has been a great time for Latin America in terms of external conditions. It will be interesting to see if they stick by the market-friendly policies they've advocated. There will be a public clamor to spend in a bid to prop up growth and help consumers hit by slower growth and inflation."