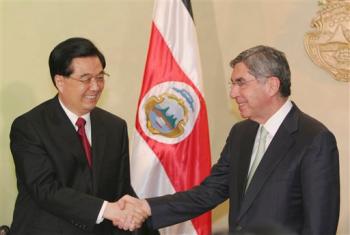 (above) China's President Hu Jintao, left, shakes hands with Costa Rica's President Oscar Arias after signing bilateral agreements at the Presidential House in San Jose, Monday, Nov. 17, 2008. Hu Jintao is on an official two-day visit to Costa Rica. (Photo: AP Photo/Kent Gilbert)
Slowdown doesn't shrink China's LatAm ambitions
November 18, 2008 - Associated Press
By FRANK BAJAK
LIMA, Peru (AP) -- China isn't letting the global financial crisis shrink its ambitions in Latin America, where it has sunk billions into mining and replaced the United States as Chile's top trading partner.
Chinese trade with Latin America has grown more than tenfold since 2000, and shows little sign of slowing. The world's fourth-largest economy is now racing to seal a free-trade deal with Peru ahead of this weekend's Pacific Rim economic summit of 21 nations.
"Some foreign companies are basically canceling their projects in Peru," said China's press attache in Lima, Zhu Jingyang. "That's not the case for China."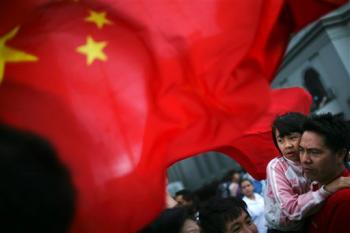 (left) Deng Qing Qiang holds his daughter Natalia Deng Yuan, as members of the Chinese community await the arrival of China's President Hu Jintao at the National Theater in San Jose, Monday, Nov. 17, 2008. Hu Jintao is on a two-day official visit to Costa Rica. (Photo: AP Photo/Rodrigo Abd)
China is known for thinking long-term -- and long-term, there's no sign that its voracious appetite for raw materials will diminish.
Top on its shopping list is the copper and iron that South America's Andean ridge so abundantly possesses. It continues to buy: In May, it signed a $2.2 billion deal to extract more than 7 million tons of copper ore from a single bald Peruvian peak known as Toromocho.
China is also negotiating to build a $3 billion steel mill in Brazil, where the Bank of China plans to open a branch next year with $100 million in initial lending capital. And it has invested in oil exploration in Ecuador, Colombia and Venezuela.
But it's not just raw materials the Chinese crave. It's also markets.
Chinese President Hu Jintao is bringing a delegation of about 600 people, including 12 ministers, to this weekend's Asia-Pacific Economic Cooperation summit, known as APEC. That's every bit as big as the one that accompanied him to Chile four years ago, when a global slowdown wasn't crimping his economy.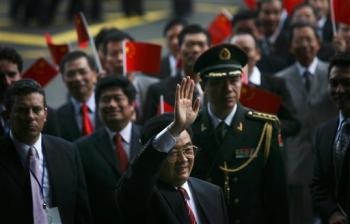 (left) China's President Hu Jintao waves upon his arrival at the Juan Santamaria International Airport in Alajuela, on the outskirts of San Jose, Sunday, Nov. 16, 2008. Hu Jintao is on a two-day official visit to Costa Rica. (Photo: AP Photo/Rodrigo Abd)
That delegation is mainly made up not of mining officials, but of business leaders in telecommunications, agriculture and other sectors.
Chinese and Peruvian officials say they hope to have a free-trade agreement ready for signing at the summit, though Peruvian manufacturers of textiles, shoes, machine tools and other products fear the agreement could decimate their industries.
The pact would be China's second with a Latin American nation. It signed the first with Chile in 2005, and last year China eclipsed the United States as the top trading partner of Peru's southern neighbor.
Hu stopped off on his way to APEC in Costa Rica, the first Central American country to recognize China diplomatically, and said Monday the two countries would begin free-trade negotiations in January and hope to wrap them up by early 2010.
"China's relations with Latin America and the Caribbean have never been so close," Hu told Lima's leading newspaper, El Comercio, in a full-page interview published Monday. More than 400 Chinese companies are now registered to do business in Latin America.
China is a low-key diplomatic presence in these countries, far from a political or military rival to Washington in a region the U.S. has long considered its backyard. But China's commercial clout is growing in leaps.
China's trade with Latin America was $102 billion last year, but already in the first nine months of this year it reached $111 billion, Chile's ambassador to Beijing, Fernando Reyes, told The Associated Press. That compares with U.S.-Latin American trade of $560 billion last year.
Hu's government insists its interests are not just commercial. In its first policy paper on ties with the region, China's foreign ministry suggested it might help Latin American countries reduce their debts. It also said it wants to help Latin American nations narrow the gap between rich and poor.
To that end, China last month bought into the Interamerican Development Bank with a very modest $350 million investment for social, anti-poverty related projects. That compares to Washington's 30 percent stake in a fund that exceeds $100 billion.
The money may be small, but the symbolism is big: The United States isn't the only world power Latin America can turn to for help.
"The reality is that to some degree the fate of Latin America has been decoupled from the United States. Or at least it's not as tightly entwined as it used to be," said Daniel Erickson of the Inter-American Dialogue, a Washington think tank.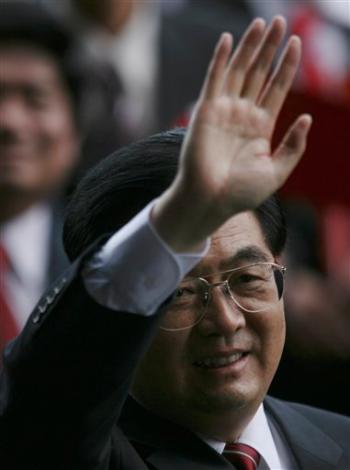 (left) China's President Hu Jintao waves upon his arrival at the Juan Santamaria International Airport in Alajuela, on the outskirts of San Jose, Sunday, Nov. 16, 2008. Hu Jintao is on a two-day official visit to Costa Rica. (Photo: AP Photo/Rodrigo Abd)
Analysts are nevertheless skeptical that China could become a political counterweight to U.S. influence in the region. It's simply not Beijing's style.
"The United States maintains deep cultural and economic ties in Latin America that the Chinese won't come close to matching," said Washington-based Nicholas Consonery of the Eurasia Group. "I don't think the Beijing paradigm is to undermine U.S. influence in the region. Instead, it's about gaining access to resources."
Many economists believe China's economy will continue healthy growth as more developed economies retract, and that China could show leadership by offering lines of credit to the developing world from its $1.9 trillion in cash reserves.
IDB President Luis Alberto Moreno told the AP that he anticipates Latin America's economic growth rate to drop from 4.5 percent this year to 2.5 percent in 2009, which he said could trigger greater unemployment.
That's worrisome for opponents of a China-Peru free-trade agreement, considering how others in the region have fared in commerce with China. Mexico has a 16-to-1 trade imbalance with China, although APEC's third Latin American member, Chile, has fared well in bilateral trade because of its well-developed economy.
Peru's external trade minister, Mercedes Araoz, says the still-unfinished trade pact would protect 20 percent of Peruvian products -- including textiles, shoes and clothing -- with import duties.
But critics still fear it would cost jobs. And the president of the Peruvian Congress' external trade commission, opposition Rep. David Waisman, is also concerned about an absence of environmental and labor safeguards.
"Ninety percent of what Peru exports to China are goods without added value, purely minerals," he said. "The people who create jobs in Peru are the small and medium-sized companies. Not the mining industry."
___
Associated Press writers Andrew Whalen and Carla Salazar in Lima; Eduardo Gallardo in Santiago, Chile; and Marianela Jimenez in San Jose, Costa Rica, contributed to this report.