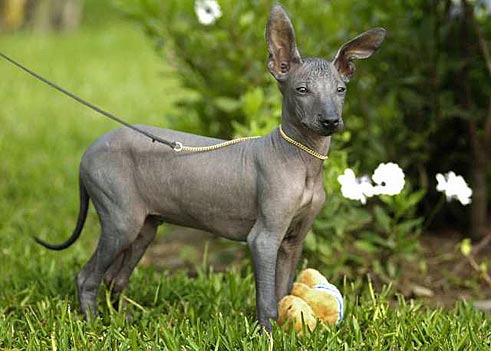 (above) What kind of dog will the Obamas bring with them to the White House?
A curly Goldendoodle? Maybe a spunky Maltese or a standard poodle?
(Photo credits: Karel Navarro / Associated Press)
Peru offers to send a bald dog to the Obamas
November 12, 2008 - The Los Angeles Times

What kind of dog will the Obamas bring with them to the White House? A curly Goldendoodle? Maybe a spunky Maltese or a standard poodle?
Well, Peru (as in the country) has a suggestion:
Meet Ears, a 4-month-old Peruvian Hairless dog. He's part of a bald and often toothless ancient breed that was popular during the Incan Empire. The Associated Press reports:
"They do not cause any type of allergy and are very friendly and sweet," said Claudia Galvez, 38, director of the Friends of the Peruvian Hairless Dog Association.

"We want to give a male puppy to Obama's daughters, so they get to experience all the joys of having a dog but without any allergies."

Galvez delivered a letter detailing her offer to the U.S. embassy in Lima Monday and hopes Obama will accept it.
If you're not fully sold on Ears based on his stunningly good looks alone just yet, it turns out that he has more to offer than just a ... wrinkly face.
According to a Peruvian myth, hairless dogs have higher body temperatures than other dogs because of their lack of hair, making them feel warm. Peruvian folklore also has it that hugging one of these dogs is supposed to ease stomach pains and other disorders (Wikipedia).
If he is sent to the United States, Ears will officially be named Machu Picchu (which is really too bad because, truth be told, his name was the only thing that made us think those big flappers were actually something cute). To L.A. Unleashed, he'll always be Ears.
-- Christine Kang
(Photo credits: Karel Navarro / Associated Press)