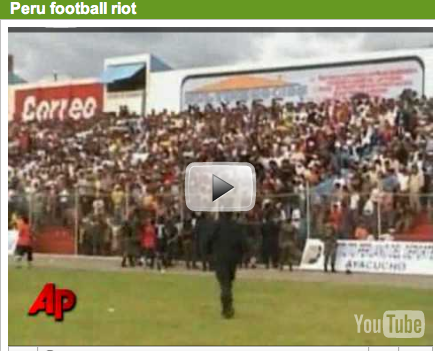 Video footage of the riot can be seen here.
Yet Another South American Riot, This Time in Peru
December 3, 2008 - bleacher report
by Ronaldo Assis de Moreira (Analyst)
Another week and another riot in South America as Peruvian local media report that up to 100 fans were left injured after violence broke out at another football stadium.
The incident happened at the Cumana Stadium, as the second-division side Sport Huancayo beat Sport Huamanga in the Copa Peru (Huancayo winning 5-4 on aggregate, despite losing the second-leg 4-1), and as a result ending Huamanga's chance to claim promotion to the top flight.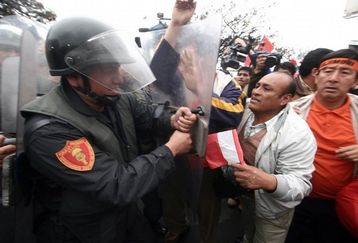 According to reports, the trouble started when Huancayo were awarded a free-kick as the hosts pressed for a decisive fifth goal. The referee was surrounded by furious Huamanga players and needed protection from riot police, delaying play for nine minutes. Play eventually resumed, only for the fans to start throwing stones at the players and forcing the game to be abandoned.
Police tried to control the crowd by launching tear gas into the stands, but the fans then stormed the field and tried to attack the Huancayo players and ref Villanueva, before setting an ambulance alight.
Villanueva told local media that he and the players took refuge in the locker rooms for the duration of the riots, and were then escorted by police out of the stadium.