To the barricades
The politics of non-stop protest
Dec 4th 2008 - From The Economist print edition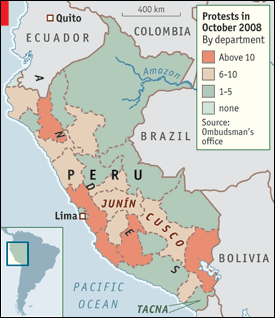 LIMA --- IN NAMING Yehude Simon, a moderate leftist, as his new prime minister in October, President Alan García hoped to give new impetus to his unpopular government. Mr Simon duly presented an ambitious 64-page plan to protect South America's fastest-growing economy from the credit crunch and clean up its corruption-plagued administration. Yet Mr Simon has quickly found that he has to spend most of his time as a firefighter, trying to extinguish a blaze of sometimes violent protests across the country.
The ombudsman's office logged 189 separate social conflicts in October, more than double the number a year ago. New protests erupted almost daily in November. Many concern mines or oil exploration: the protesters either don't want them, or want them to pay more money to local communities. Some concern government infrastructure projects--not in my backyard, or yes in my backyard and on no account in my neighbour's. Others range from strikes to demands for better bus services or the ejection of corrupt officials.
Already Mr Simon has acted as a mediator in a conflict over a hydroelectric plant in Cusco, and dispatched officials to Tacna to deal with a violent protest over mining taxes that saw two people killed and costly damage to property. No sooner had Mr Simon said goodbye to the 20 foreign heads of government who attended the Asia-Pacific Economic Co-operation summit in Lima last month than he had to set up talks over a solid-waste treatment plant in Junín, in the Andes (two opponents were killed in clashes with the police).
Mr García often blames the protests on agitators from small far-left parties, and on Ollanta Humala, a nationalist former army officer whom he narrowly defeated in the presidential election of 2006. Officials have hinted (without proof) that Venezuela's president, Hugo Chávez, funds such groups. Mr Humala in turn accuses the government of trying to distract attention from its own incompetence.
Certainly far-left activists can be found in the bigger disputes. But many of the conflicts are very local in nature, and it is hard to see them as forming part of a concerted attempt to undermine democracy or the market economy. They are getting more violent because people have seen that more can be squeezed from the government by throwing stones or setting fire to police stations than simply by marching through the streets, says Fernando Rospigliosi, a former interior minister.
Above all the protests dramatise the shortcomings of Peru's political system. According to Ipsos Apoyo, a pollster, 88% of people surveyed said they support the protests as long as they are non-violent. Peruvians know that there is money about: the economy grew by 10% in the year to September. But many also know that they are not receiving much of it. Many of the protests are in the Andes, where big mines may coexist with subsistence farming.
The problem is that Peru's political parties are failing to channel the demands, conflicts and frustrations that rapid economic growth is throwing up. The worry is that as the economy slows along with the world's, blocking roads and throwing stones will become an even more integral part of the Peruvian way of life.