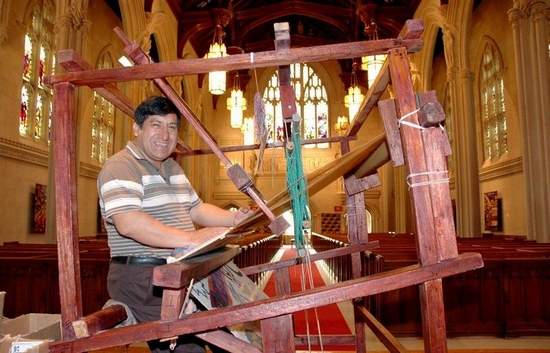 (above) Peruvian master weaver, Edwin Sulca, works. (Courtesy Photo)
Weaver from Peru visits SDSU
December 11, 2008 - Argus Leader.com
Jay Kirschenmann jkirsch@argusleader.com
Edwin Sulca isn't your average weaver.
He's the third generation of men from Peru who create weaving artwork. His grandfather and father also are master weavers, using an ancient technique to produce their textiles.
Sulca weaves using the "punto arwi" method, a pre-Incan technique that involves twisting the yarn around the warp, or vertical thread instead of just passing it through. He also uses native Peruvian wool that is spun and colored with natural plant and insect dyes.
Advertisement
The results are Sulca's colorful pieces, a blending of colors and geometric patterns that often create the suggestion of ascending stairs, flowing ribbons and other optical illusions.
He shows his work and gives a demonstration Friday at the South Dakota Art Museum. If you miss meeting the artist, the show is up through April 12, 2009.
"Through the use of symbolic images in his weavings, he tells the story of his people," says John E. Rychtarik, curator of exhibits at the museum. "Although the weavings are very traditional, the symbolic designs and images, in many cases, create a very contemporary optical illusion."
Steve Bormes, owner of Rug & Relic in Sioux Falls, often travels to Turkey to bring back hand-woven rungs for the shop. He said male weavers are rare there, since women often are the weaving artists. The technique differs from Peruvian methods, too, he says.
"In Peru they often use a single knot, while in Turkey it's a double knot," Bormes says.
Communication takes some effort when Sulca is in the United States.
"Edwin does not speak English - his adopted son interprets for him," Rychtarik says. The weaver and his family fly into Omaha today and drive to Brookings for the Friday reception and exhibit opening.
Sulca learned his weaving skills from his grandfather, who earned the national distinction of "Great Master" in 1994, and his father, who is also known as a master and teacher of weaving.
Sulca travels extensively throughout Peru and internationally to exhibit and teach. He has exhibited in major museums around the world including his most recent experience as Artist in Residence at the Peabody Essex Museum in Salem, Mass.
The artist says his creations and sometimes-elaborate designs are influenced by nature, his surroundings, poetry and music. Meet the artists during his visit, or see the exhibit now through April.
Reach reporter Jay Kirschenmann at 331-2312, or e-mail jkirsch@argusleader.com.