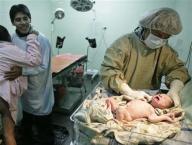 Slide show (27 photos)
Peru embraces vertical births to save lives
July 11, 2008 - Reuters

By Maria Luisa Palomino
CUZCO, Peru (Reuters Life!) - Pregnant with her seventh child, Benigna Condori hiked for hours through Peru's Andes mountains to a health clinic that mixes modern medicine with indigenous practices like giving birth standing up.
After five births at home, Condori, 37, decided to have her latest two babies at one of hundreds of new clinics that have started allowing women to deliver on their feet rather than on their backs.
The hope of the program is to cut high rates of maternal mortality by encouraging poor, mostly indigenous Peruvian women to place themselves under the care of professionals.
Condori said she did not want to take any chances and that hiking through the mountains was a safer bet than having her baby at home.
"I'm here because I know a woman who almost died during childbirth," she said at a maternity home near a health center in Cuzco, about 685 miles from the capital Lima. "The midwives were trying to help her but they couldn't do anything."
Peru has a large indigenous population, mainly in the Andes and the Amazon. Poverty in the South American country disproportionately affects indigenous communities.
Ancient pottery from the Andes depicts women sitting or standing while giving birth. Peru's health ministry has said vertical birthing positions can be healthier for women by reducing pressure on the uterus and large blood vessels that can affect the amount of oxygen going to the baby.
Standing or sitting during childbirth also tends to reduce labor and delivery time, according to the health ministry, and allows the mother to watch the birth better than if she were lying down.
"Western science is unaware of the priorities and needs of women, particularly rural women, who consider childbirth a natural event and do not think changes to the traditional vertical delivery are needed," the ministry said in a small book extolling the benefits of standing during childbirth.
The practice of women giving birth on their backs is done for the convenience of doctors, not women, say supporters of Andean birthing methods.
CHANGING ATTITUDES
In Peru, at least 185 women die per 100,000 births, many of them in their homes. It is one of the highest rates in the world, with less than 20 women dying per 100,000 births in developed countries like the United States and Canada.
"Maternal mortality rates in the region are lower than those in some African countries but that does not mean they are acceptable," said Edgar Ramirez, a representative with the United Nations Population Fund in Peru.
By 2015, the government has said it aims to lower the number of women who die due to pregnancy to 66 per 100,000 births, in part by making health services more accessible and accommodating.
Peru has opened 390 birthing houses over the last decade where women from tiny hamlets can stay for free while waiting to deliver.
But for the centers to do their job, women have to use them -- and getting expectant mothers to leave their homes to give birth can be a challenge.
"Andean women traditionally had their children at home, helped by their grandmothers, partners or midwives. They are used to that and so it is hard to change," said Ramirez.
To encourage women to make the switch, health centers are making adjustments.
At maternity homes connected to health centers, women can bring family members and even animals while they wait. Some health clinics serve teas made with herbs traditionally served to help induce labor.
The centers let women squat, sit or leave their long skirts on during childbirth -- another typical Andean practice -- instead of putting on a hospital gown. Many clinics are painted in soft, warm colors to make the women feel more at home.
Maruja Caira, 35, had her third child, a son, at the health center near Cuzco. She partially stood during his birth and said the experience was much easier than when she delivered lying down.
"It gives me peace of mind to give birth to my son here," she said, cuddling her healthy newborn boy.
(Reporting by Maria Luisa Palomino; Writing by Dana Ford; Editing by Terry Wade and John O'Callaghan )