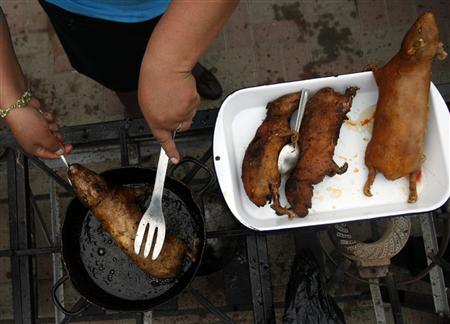 Photos slide show
Primped Peru guinea pigs tossed in frying pans
July 21, 2008 - Reuters

By Dana Ford
HUACHO, (Reuters Life!) - Furry guinea pigs squared off in Peru as their breeders tried to claim top prize for raising the fattest, fastest, most fashionable or tastiest rodent.
Those that won the road race and fashion competitions were spared the frying pan. Others were not.
The women, who gathered in the coastal town of Huacho on Sunday, prepared guinea pig every which way, from boiled to fried, but almost always whole including their feet.
Some at the competition, now in its third year, dressed their guinea pigs in red and blue outfits accessorized with wide-brimmed pink and white hats.
Pampered in other parts of the world as a pet, the guinea pig in Peru is dinner. Top Peruvian chefs say it tastes better than rabbit and is low in cholesterol.
"We never raise them as pets. We raise them to sell and of course, to eat," said Betty Andres, from the Ayarpongo community, who was competing to retain her first place title from last year.
Beads of sweat gathered on her upper lip as Andres worked, stuffing the insides of a gutted pig with an egg and meat mixture seasoned with chiles and local spices. She served her creation -- ears, teeth, toes and all.
Andres, who learned the recipe from her grandmother, lost to a dish made by women from the town of Curay.
Pilar Fox, a chef and judge in the contest, said the guinea pig, whose roots reach back to before the Inca empire, has come a long way, recently pushing its furry rump onto menus at some world-class restaurants.
"The most delicious dishes have a long tradition," she said.
Unlike larger animals, the guinea pig is native to the Andes, where it is known as cuy in Spainish, grows quickly and is cheap, making it a staple in many rural communities.
Rosa Sanchez started raising guinea pigs on her roof eight years ago. She has some 800 now and would like to build an export business, though she knows the idea of selling them for food is tough pitch internationally.
"Some people just think of guinea pigs as pets," she said.
(Editing by Leslie Gevirtz)