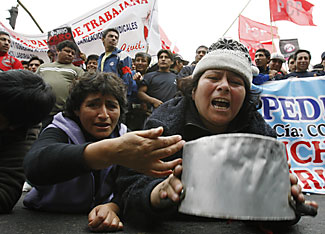 (above) Fed up: Demonstrators in Lima, Peru, hit a pan earlier this month while protesting the high cost of living. Strikes began two weeks ago. (Photo: Martin Mejia/AP)
Peru's García unpopular despite boom
July 23, 2008 - Christian Science Monitor
President Alan García presides over one of the region's fastest growth rates, but his approval rating sank to 26 percent this week because the poor say their lives aren't any better.
By Sara Miller Llana - Staff writer of The Christian Science Monitor



For Audio of Reporter Sara Miller Llana discussing the growing gap between the rich and poor in Peru.(1min 24sec) go to original article at this photo
Lima, Peru - The first time Alan García was president of Peru from 1985 to 1990, inflation skyrocketed to a cumulative total of more than 2 million percent.
Twenty years later -- during his second time in office -- Mr. García boasts one of the lowest rates in the region, even while his neighbors suffer under double-digit inflation.
The economic outlook only brightens from there. Peru has seen 84 consecutive weeks of sustained growth, foreign investment is pouring in, and, in a much-heralded announcement, Standard & Poor's this month raised Peru's foreign currency debt rating to investment grade.
García should be one of the most popular presidents of Latin America. Instead, he's one of the least.
Peru's economic boom has buoyed the country, both rich and poor. Poverty is down by 5 percentage points in the past year, to about 40 percent. But the windfall from record mineral prices, textile exports, and foreign investment has fueled wealth much faster than it has reduced poverty -- giving rise to resentment, protests, and strikes that many observers say is paving the way for the victory of a hard-line nationalist, like former presidential candidate Ollanta Humala, in Peru's next elections in 2011.
"Inequality is greater than before," says Efrain Gonzales, an economist and vice rector of the Pontifical Catholic University of Peru. And the serious reforms that would bridge divides, particularly for those in the rural Andes who are most cut off from the expansion, have taken a backseat to continuing economic growth, he says. "That is just fuelling more dissatisfaction. If the government does not improve its programs, the problems will get worse, and it's very probable that a candidate like [Mr. Humala] will win."
Earlier this month, the General Confederation of Workers called a national strike to protest García's economic policies and demand that wealth be spread across the country. It was one of a series of strikes in recent months that have been most powerful in the countryside, where poverty is as high as 70 percent.
But the disjuncture is also apparent in the capital, and perhaps no more so than in Gamarra, the garment district of Lima. Textile exports have been booming, and with consumer spending up, pedestrian streets are packed with buyers. On a recent day, men haul rolls of hot pink, red, and baby blue fabric and cart around piles of T-shirts.
But outside the gate, across the street, and down three blocks lives Rosa Huilca, a mother of four whose husband works in a T-shirt factory in Gamarra. The transformation she has seen across the street has not found its way to her doorstep, where up a dank, dark flight of stairs in a huge apartment complex, she lives with her family in a single room with bunk beds. Seven families share the single bathroom down the hall.
"Instead of getting better, life has gotten harder. Everything is more expensive now," says Ms. Huilca. "The president has tricked us."
It is sentiments like this that put García's approval rating at about 26 percent, according to the polling firm Ipsos-Apoyo in Lima, making him both among the least popular in the region and far more unpopular than Humala.
"We are growing at the macroeconomic level, and it has caused an overflow of expectations," says Humberto Campodonico, an economist in Lima. "Many feel the government is just favoring the rich and the investors."
There are other reasons that people are unhappy. Unemployment is down, but underemployment remains rampant, at about 40 percent of the population, says Mr. Gonzales.
While government coffers are full, a lack of efficiency and human capital has hindered infrastructure projects that would connect rural areas to the modern economy.
The government has attempted to address rising resentment, pledging to reduce poverty to 30 percent by 2011, says Javier Barreda Jara, the viceminister of Social Development, and slash child nutrition. Social spending is up, he says, but he concedes that inefficiency at the regional and local level has contributed to an unequal distribution of wealth. "The people don't yet perceive [an improvement]," he says.
But many say the government is not giving attention to real reforms -- including in justice, health, education, and security. Instead, some say, the government is single-mindedly focused on keeping the economy, expected to grow by 9 percent this year, roaring ahead. "The government expects economic growth to solve all these problems," says Jorge Gonzalez Izquierdo, a researcher at Pacific University in Lima and a former Minister of Labor. "But the fight against poverty is not only a market matter."
Marlene Tame, who sells gelatin outside the walls of Lima's garment district, says that grocery bills are no longer viable because of the price of eggs, milk, and bread. "They say everything is so good with the economy, meanwhile the people are dying of hunger," she says.
García, who implemented price controls in the 80s, has maintained a tighter monetary policy, and toured the country emphasizing his message that an investment grade helps the poor too, that food inflation is a result of global price spikes, and that anti-system leaders such as Humala are seeking to polarize the situation for their own political gain.
Still, problems are likely to get worse for García, who has not been able to shake his old reputation as the president of hyperinflation. Prices go up even slightly, says Gonzales, and "people see the Alan García of 1985. His problem is erasing his image as the populist, inflationist president."
And while he has changed his economic policies, he has also changed his style, says Alfredo Torres, the president of Ipsos-Apoyo.
He is no longer the populist who once hugged voters for the cameras. "In some aspects he has changed for the better, and in others for the worse," says Mr. Torres. "He is more arrogant and distant. His personality is not the best to give poor people a sense that the president is worried about them."
If Peru is Latin America's rising star, its advances could be rolled back by politics.
"That is what sets Peru apart from countries like Brazil and Chile, which are also doing well economically but that enjoy far more political stability and certainty," says Michael Shifter, vice president for policy at the Inter-American Dialogue in Washington. "In Peru, the contradictions are more acute."