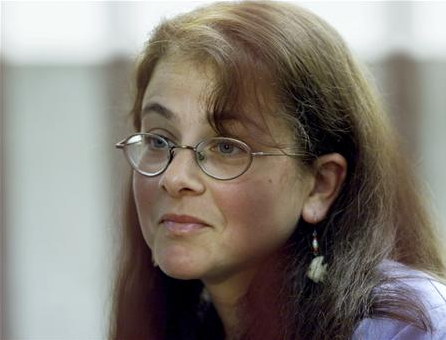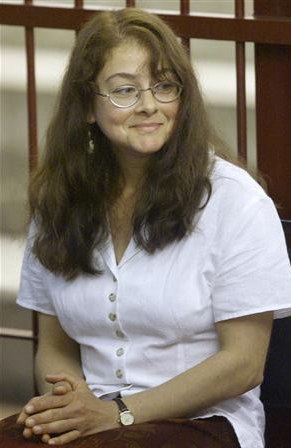 (above left) Lori Berenson is seen in a courtroom in Lima in this March 22, 2001 file photo.
(above right) Lori Berenson sits in a courtroom in Lima in this March 27, 2001 file photo.
(photos: left: REUTERS/Mariana Bazo right: REUTERS/Pilar Olivares)

Committee to Free Lori berenson blog
U.S. citizen Lori Berenson pregnant in Peru prison
September 16, 2008 - Reuters

LIMA (Reuters) - Lori Berenson, a U.S. citizen serving time in a Peruvian prison for aiding leftist guerrillas , is pregnant, her father said on Tuesday.
Berenson, 38, has been married since 2003 to former inmate Anibal Apari. She is allowed conjugal visits at the prison in Cajamarca, 530 miles northeast of Lima.
"My wife and I are thrilled for Lori," said Mark Berenson, speaking by phone from his home in New York. "I know Lori has always wanted to have the opportunity to be a mother."
A prison official, who declined to be named, said tests at a local hospital showed she is four weeks pregnant.
Berenson was arrested on November 30, 1995. A military judge jailed her for life as a leader of the Tupac Amaru Revolutionary Movement, or MRTA, a leftist insurgency that was active in Peru in the 1980s and 1990s.
Under U.S. pressure, a civilian court retried her, convicting her to 20 years as a collaborator of the Tupac Amaru. She has already been in jail for 13 years.
Berenson denied knowingly working with armed fighters for the MRTA, saying she associated with people she thought were social progressives.
The MRTA demanded her release in its 123-day siege of the Japanese ambassador's residence in 1996 and 1997. Its insurgency, together with one led by the bigger Maoist Shining Path rebels, were defeated in a conflict that cost 69,000 lives.
During two decades of violence that ended in 2000, insurgents often battled the military and armed peasants. All sides were blamed for human rights atrocities.
Last year, Berenson and other prisoners complained of hordes of rats almost a foot long that feed on raw sewage at the prison.
She has back problems and has lost significant hearing in one ear, said her father, who expressed concern for her having a child in her late 30s, given her living conditions.
"We're thrilled and at the same time we are concerned for the health of the baby and for Lori," he said. "I know these next few weeks are very crucial."
Women who give birth in prison in Peru can keep their children with them for the first few years. Berenson could be paroled as early as 2010.
(Reporting by Dana Ford, Terry Wade and Teresa Cespedes; Writing by Terry Wade; Editing by Dana Ford and Doina Chiacu)