Morales enacts new Bolivian constitution
February 7, 2009 - AFP
EL ALTO, Bolivia (AFP) — President Evo Morales on Saturday proclaimed the start of "communitarian socialism" in Bolivia as he enacted a new constitution that empowers the country's indigenous majority and allows him to seek reelection.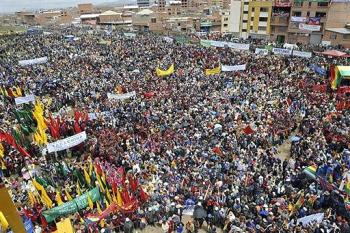 (left) Thousands of Bolivians take part in an enactment ceremony for the new constitution
The move is the centerpiece of Morales' promise to "re-found Bolivia," South America's poorest country, and overturn a centuries-old political and social order inherited from Spanish colonial times.
Morales, the first indigenous president since Bolivia declared independence from Spain in 1825, told an enthusiastic crowd of supporters that right-wing opposition groups have been trying to oust and even kill him ever since he took office in 2006.
"Now I can say: you can take me out of the (government) palace, you can kill me ... mission accomplished for a united Bolivia!" he told the crowd in the working-class town of El Alto, a bastion of Morales support, just outside the capital La Paz.
"Only the wisdom of our people, of our social forces have let us identify and defeat external agents, defeat US imperialism," he told the cheering crowd.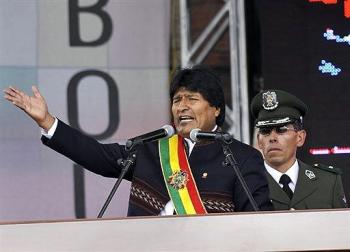 (left) Evo Morales
He noted that the new constitution bans foreign military bases in Bolivia, and made reference to the expulsion in September of US ambassador Philip Goldberg -- allegedly for organizing a plot against him -- and later all agents of the US Drug Enforcement Agency (DEA).
The sweeping constitutional changes allow 36 indigenous communities and groups to win the right to territory, language and their own "community" justice, and enacts agrarian reform measures by limiting the size of landholdings.
The new constitution also scraps the single-term limit for the president, allowing Morales to stand for a second five-year term.
Guests included the head of the Organization of American States, Jose Miguel Insulza, and indigenous Guatemalan activist Rigoberta Menchu, a 1992 Nobel Peace prize winner.
The constitution was approved by 61 percent of voters in a January 25 referendum. But it was rejected in the wealthy regions of Santa Cruz, Tarija, Beni and Pando, hotbeds of anti-Morales activity.