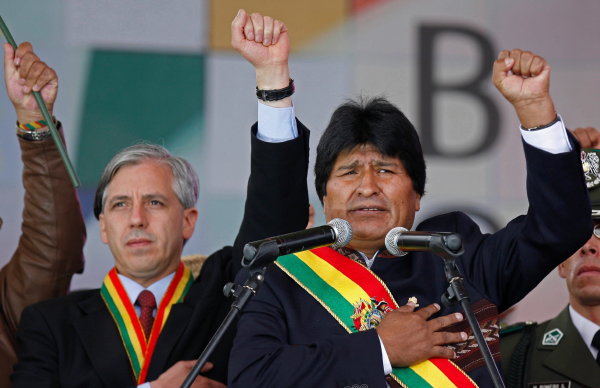 (above) : Bolivian President Evo Morales (right) and Vice President Alvaro Garcia Linera gesture during the playing of the national anthem at a ceremony where Mr. Morales signed into effect a new constitution, which could make it tougher for U.S. companies to gain access to Bolivia's lithium and other mineral reserves. Photo: ASSOCIATED PRESS PHOTOGRAPHS
Mineral wealth, political weapon
February 10, 2009 - Washington Times
Martin Arostegui
SANTA CRUZ, Bolivia -- International competition for Bolivias strategic minerals could take on new dimensions, as car companies scramble for lithium to build battery-powered cars and Iran seeks sources of uranium for its nuclear program.
Bolivia, one of the poorest countries in Latin America, has vast reserves of both.
An estimated 50 percent of the worlds known lithium reserves lie in remote parts of its Andean high-mountain plateau, where some of the worlds largest uranium deposits are also thought to exist, according to recent geological surveys.
Lithium is a low-density metal used in lithium-ion batteries. The batteries are considered crucial to making the next generation of hybrid and electric cars, because they deliver more power and weigh less than other types of batteries.
Leading automotive companies in the United States, Europe and Japan are racing to develop energy-efficient engines to reduce dependence on foreign oil.
(below) Thousands attended the signing ceremony in El Alto. Photo: ASSOCIATED PRESS PHOTOGRAPHS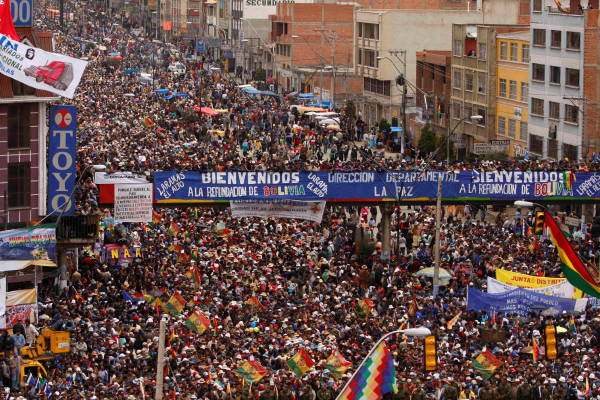 Uranium is valuable because it can be enriched to power nuclear reactors or to make the fissile core of atomic bombs.
Access to Bolivias mineral reserves, which also include iron ore, silver and gold, is tightly restricted by a new socialist constitution that was approved by 61 percent of voters in a referendum last month.
President Evo Morales declared the new charter operative at a rally of Indian peasant supporters Saturday.
Business leaders fear that the close alignment of Mr. Morales with Venezuelan President Hugo Chavez and Iran could decisively influence his governments choice of partners in major ventures to tap strategic minerals.
"The ideological lines of the current government and its international relations have led Bolivia to sign mining-cooperation agreements with Venezuela and Iran, by which Bolivia would become a primary supplier of raw mineral products to those dangerous countries," said Oswaldo Barriga, president of the main Bolivian association of exporters known as CADEX.
Mr. Morales signed cooperation agreements with Iranian President Mahmoud Ahmadinejad in 2007 for $1 billion in joint ventures to develop energy and mining.
Just days before the constitutional referendum, Mr. Morales ordered troops to seize British Petroleum installations in the hydrocarbon-rich eastern region of the country.
"The previous imperialist model of exploitation of our natural resources will never be repeated in Bolivia," said Saul Villegas, an official of the state mining enterprise Comibol.
"Maybe there could be the possibility of foreigners being accepted as minority partners," he was quoted as saying in the New York Times.
Efforts by the U.S. company Lithco to obtain Bolivian government permission to mine 73 million metric tons of lithium thought to be beneath the salt lake of Uyuni were rejected even before Mr. Morales took office in 2006.
Recent approaches by Japans Mitsubishi and Toyota and by the French electric-car maker Bollern for lithium concessions have been similarly rebuffed.
The Bolivian news channel Gigavision reported over the weekend that talks were advancing with a company from China, which has substantial lithium deposits in Tibet and may have common interest with the Bolivian government in keeping the price high.
Bolivian officials openly talk of plans to try to establish a lithium cartel, which have prompted some to compare the effort with OPEC's influence on gasoline prices.
"The days of U.S. car companies buying cheap raw materials to sell expensive cars are over," said Bolivian Mining Minister Luis Echazu.
Bolivian officials are more secretive when discussing Bolivias uranium.
On March 3, 2006, barely two months after Mr. Morales took office, the Canadian-based firm Mega Uranium entered into a joint venture to obtain a "75 percent interest in the uranium molybdenum content of 16 exploration concessions ... in Bolivia," the company said.
A Mega Uranium press release dated March 8, 2006, said that 11 exploration points totaling about 23 square miles are near the Uyuni Salt Lake, which also contains lithium.
The largest single deposit, according to Mega Uranium, lies over a 46-square-mile zone in the eastern lowland region of Santa Cruz. The company says the area's uranium mining potential compares with that in the Athabaska Basin in Canada and the Pine Creek area of Australia.
Bolivian mining officials say that the information about uranium is classified.
"No one has assured us that Bolivian uranium will be used for benign purposes, so we cannot take any risks," said opposition Sen. Arturo Murillo.
Under the new constitution, Bolivia's opposition would probably lose influence in Congress. Mr. Morales says he plans to shut down Congress until a new one can be elected.
Venezuela's Mr. Chavez has openly backed Iran's nuclear ambitions and expressed interest in developing his own nuclear-energy program with technology from Russia.