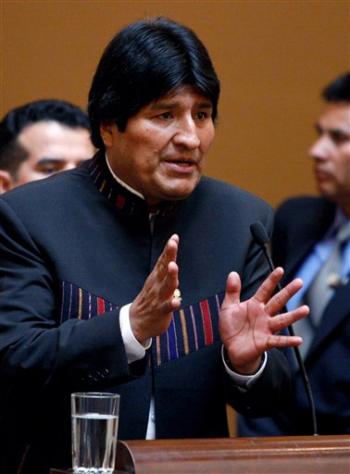 (above) Bolivia's President Evo Morales speaks during a ceremony at the presidential palace in La Paz, Sunday, Feb. 8, 2009. Morales and thousands of supporters celebrated Bolivia's new constitution as it took effect on Saturday, saying the new document will enshrine indigenous rights and end centuries of oppression. (AP Photo/Juan Karita)
Bribery-murder scandal tests Bolivian president
February 13, 2009 - Associated Press

By CARLOS VALDEZ
LA PAZ, Bolivia (AP) -- It seemed the perfect crime: an armed robbery of $450,000 in cash that the victim would have never reported missing. Except the victim resisted, was shot in the face and died.
The money stolen in broad daylight in the hall of a La Paz apartment building turned out to have been paid out by Bolivia's state energy company YPFB, and prosecutors say they believe it was a bribe.
Two weeks later, YPFB's chief, Santos Ramirez, is out of a job and in preventive detention. And because he is such a close friend and longtime ally of President Evo Morales, Bolivia's leader has been put on the spot as well.
Morales won a recall election last year with 67 percent support, and 62 percent of voters just approved the constitutional reform he championed. But this bribery and murder case is testing his promise to eradicate the corruption that has long poisoned Bolivian democracy.
Morales served as best man at Ramirez's wedding only a month ago, and prosecutors say members of the bride's family are leading suspects.
The slain man, 37-year-old Jorge O'Connor, had an $86 million contract to build a plant to separate liquids from extracted natural gas in Bolivia's eastern lowlands. The $450,000 in government money was released by Yacimientos Petroliferos Fiscales Bolivianos to O'Connor's company as part of the contract.
Prosecutor Marco Vidal says it was probably a bribe. On Jan. 27, O'Connor had withdrawn the cash from a La Paz bank and was carrying it in two suitcases to an apartment where two of the YPFB president's new relatives were waiting, according to a police report.
Police said five men jumped him, and he was shot while resisting. All five were arrested, along with O'Connor's driver. One confessed that O'Connor was taking the money to Ramirez's brothers-in-law; the six figured their theft would not be reported because the money was part of an illegal transaction, investigators say.
Morales' initial reaction was to accuse the media of slander.
But four days later, Morales fired Ramirez and nine other YPFB executives, ordered an investigation and promised that "whoever falls will fall."
"We know where the money came from. We want to know where it was going," he said.
Ramirez has not been formally charged with any crime but was ordered jailed Thursday on suspicion of financial irregularities including "economic damage to the state."
He has denied any wrongdoing, defended the contract with O'Connor's company and distanced himself from his in-laws. Two brothers-in-law are under investigation but prosecutors have not said for what possible crime.
Ramirez, a lawyer, is a highlands Indian like Morales. Both were congressmen in Morales' Movement toward Socialism, and it was Ramirez who championed a 2005 law that increased the Bolivian state's share of natural gas and oil revenues. He became president of the Senate the following year, when Morales nationalized Bolivia's hydrocarbon deposits.
O'Connor was killed just two days after Bolivian voters gave 62 percent approval to a new constitution with which Morales seeks to empower the country's long-suppressed indigenous majority. The document enables Morales to run for a second consecutive four-year term in December, though he has not yet announced his candidacy.
"The political damage is done. We're talking about the country's most strategic company, of lots of money and of people very close to Morales," said Carlos Cordero, an independent analyst at La Paz's state university.
Morales has used revenues from the nationalization of gas and oil to spread the wealth among the nation's elderly and school children. But YPFB has been dogged by administrative troubles and controversy.
Bolivia's anti-corruption minister, Nardy Suxo, accused Ramirez and 11 other former YPFB executives on Wednesday of misconduct including "influence-peddling" and dealings that allegedly shortchanged the nation. The accusations, filed with prosecutors, did not allege bribes or any other corruption.
On Thursday, Ramirez's replacement Carlos Villegas -- the seventh YPFB president in 31 months -- announced the firing of 74 employees, most of them headquarters workers "whose presence is not indispensible."
The company O'Connor represented, Catler-Uniservice, also faces trouble. Bolivia's chief of business regulation, Rolando Morales, says it is too small and unqualified financially to build the $86 million plant. And the deputy environment minister, Pablo Ramos, says the company never obtained an environmental license for the project. O'Connor's brother and business associate Miguel O'Connor says the license is on track and now 30 percent complete.
The scandal's soap opera aspects also have captivated Bolivians.
Ramirez announced on national television just before his arrest that he was divorcing the woman he'd married just a month earlier. Jiovana Navia is considerably younger and carrying his twins.
"My big problem, and the country knows it, is this relation that connects Santos Ramirez with my wife's brothers," he declared.
Navia's lawyer expressed outrage, saying Navia -- Ramirez's former secretary and second spouse -- "learned of the decision of her husband, with great pain, through the press."
Associated Press writer Frank Bajak in Bogota contributed to this report.