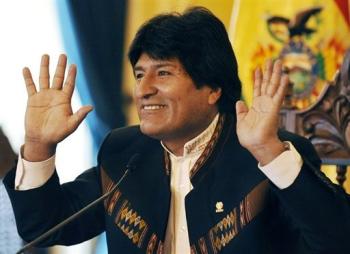 (above) Bolivian President Evo Morales
Bolivia's Morales searching for European partners
February 15, 2009 - AFP
LA PAZ (AFP) — Bolivian President Evo Morales heads for Russia and France starting Sunday in hopes of generating more investments and strategic partners for Latin America's poorest country, also home to rich energy reserves.
In France and Russia alike, the exuberant socialist leader, Bolivia's first indigenous president, needs to reassure investors.
Just 10 months before critical presidential elections, Morales must also validate the economic dynamics ushered in by a new constitution enacted in early February that defines Bolivia as a socialist state. The landmark referendum gave far greater powers, land and revenue to the indigenous majority from which Morales hails.
In Russia from Sunday to Monday, Morales hopes to reinforce cooperation in the production of natural gas, Bolivia's biggest resource at 1.34 billion cubic meters (47.32 billion cubic feet), the second-largest reserve in Latin America after Venezuela.
Russian energy giant Gazprom already has a presence in Bolivia, following the signing of agreements in 2008.
Bolivia, the third largest producer of cocaine worldwide, also seeks to develop crucial ties with Russia for its counternarcotics efforts. Morales, a staunch opponent of Washington, created his own agency to combat drug trafficking after booting the US Drug Enforcement Administration (DEA) late last year.
"Meetings are planned with Russian and European Union authorities in order to recognize and share this responsibility" in combating drug traffickers, said Bolivian diplomatic chief David Choquehuanca.
On Tuesday, Morales is to meet President Nicolas Sarkozy in Paris to "examine trade negotiations between the Andean Community (CAN) and the European Union," a government spokesman said in La Paz.
Bolivia has not participated in free trade negotiations with the European Union, due to the lack of consensus with other Andean bloc countries -- Columbia, Peru and Ecuador -- currently in bilateral talks with Brussels.
During his visit, Morales will therefore talk up opportunities in the exploitation of lithium, an abundant resource in Bolivia. He has indicated he wanted to "accelerate investments" in the soft metal that is used for electric car batteries.
Several foreign companies, including France's Bollore, have indicated their interest in exploiting the huge Salar de Uyuni, a salt desert measuring some 12,000 square kilometers (7,456 square miles) in southeastern Bolivia that is home to a third of global lithium reserves.
Morales, a former union leader, has often declared that La Paz must maintain "absolute control" over its natural resources, scaring off more than one investor by his radical moves such as the nationalization of oil and gas production.
In Europe, the socialist leader hopes to present himself as a pragmatic and respectable business partner.