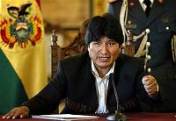 (above) Bolivian President Evo Morales
Evo Morales Explains CIA Role in Infiltration
February 24, 2009 - Prensa Latina

Cochabamba, Bolivia, Feb 24 (Prensa Latina) Bolivian President Evo Morales explained on Tuesday the supposed US Central Intelligence Agency (CIA) role in a corruption scandal that is shaking the main company of this country.
The president said the penetration in the state Yacimientos Petroliferos Fiscales Bolivianos (YPFB) oil company was possible thanks to its ex National Trade Manager Rodrigo Carrasco, who participated in over 15 courses in US territory.
Carrasco was trained and bought by the CIA, which provided him with abilities to develop secret works, including establishment of a corruption network, the president asserted in Lauka Ñ town, in Cochabamba, where he re-launched the Kausachum Coca community radio station.
According to the file read on the Internet by Morales, the ex official went to several US entities in charge of forming experts in intelligence, security, communication, and even in political profile issues.
The School of the Americas stands out among those centers, and I do not have to explain its mission to the Bolivian people, he said, referring to the entity renamed in 2001, which forms Latin American dictators.
President Morales said that from his CIA agent position, Carrasco complied with numerous missions in regional countries, as Argentina, Brazil and Chile, and also in Iraq, beneath the facade of a security expert in the hydrocarbon expert.
He always kept close contact with Washington's embassy to Bolivia, and with the USAID, and entity that receives directions from the State Department.
He was also a police member and part of the dismantled Special Operation Command, a political intelligence group related to the US embassy, he said.
I asked how someone like that could join YPFB, and the answer was: "due to his knowledge," Morales said.
The head of State asserted to have ordered the dismissed oil company Chair Santos Ramirez four times to fire the mentioned executive, to whom he also made responsible for the lack of fuels that recently caused unease among the population.
The president said they continue investigating about the case of corruption unleashed in late January in YPFB and the CIA participation.
Other ex officials are being investigated, he announced.