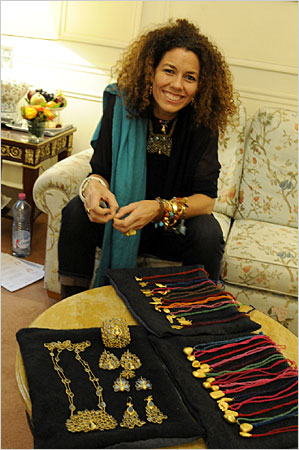 (above) The anthropologist jeweler Pippa Small with her
collection in Paris on Saturday.
Photo: Copyright 2009 The New York Times Company
A Fashionable Jeweler With a Conscience
March 9, 2009 - The New York Times

By GUY TREBAY

PARIS---The anthropologist jeweler Pippa Small with her collection in Paris on Saturday.
There are universes yawning between a sales suite at a five-star hotel here and the daily life of a Bolivian gold miner or a villager in rural India. But one of the rewarding incongruities of fashion is how — at least since the first great era of globalization — it has functioned as a matrix for cultural exchange.
As early as the 17th century, traders for the British East India Company were exporting to the European market both woven goods and techniques previously unknown to the West. They unashamedly exploited locals, of course, as they amassed corporate wealth, a process now known as "outsourcing."
In small pockets of the business, though, there are people seeking not just to make a profit from fashion but also to right some of the historical imbalances along its chain of supply. One of them is the anthropologist jeweler Pippa Small, who set up an ad hoc salesroom during Fashion Week here in a suite at the Le Meurice.
Ms. Small is no newcomer. For more than a decade, the 40-year-old British jeweler has designed rough stone necklaces of rutilated quartz and smooth gold pendants that weigh in the hand like river rocks. They have been sold at her cult shop in the Notting Hill area of London and by retailers like Browns in London and Barneys New York.
"We sell a lot of Pippa's work," said Julie Gilhart, the fashion director of Barneys. "Customers are attracted to the uniqueness of each piece and the fact that it's not branded."
Ms. Small was an anthropologist before turning her hand to jewelry, and she may be the only person in the trade who has collaborated with Nicole Farhi, consulted for Gucci and who can also hold forth on the plight of child sex workers in Thailand, the revival of crafts traditions destroyed by the Taliban in Afghanistan and the deforested homelands of the Penan of Sarawak. The idea for a new line of jewels, with a motif taken from India's endangered wild peacock, came to her while she was campaigning to halt the displacement of the Dongria people from the forests of the Indian state of Orissa to make way for a proposed bauxite mine.
"Clearing for the mine is expected to start in the next few weeks," said Ms. Small, who donates 15 percent of profits from her jewelry to nongovernmental organizations like Survival International. Survival was among the groups to protest displacement of the indigenous Dongria Kondh over the last five years. Despite its efforts, a decision last August by the Indian court cleared the way for mine operations to begin.
"We still hope that there is time and a way to stop it," Ms. Small said. If the Dongria Kondh are forced out of forest villages that lie at three day's walking distance from the nearest road, they will likely end up in coastal cities like Bhubaneshwar where "they will have to beg in order to survive."
Often it can seem as if ethical concerns lie at some equally long distance from fashion's core interests; the surprise is discovering that this is not always so. Even publicly traded, multinational companies like Tiffany & Company have joined efforts to end the global trade in "conflict" diamonds, halt the exploitation of coral reefs by the gem trade and reduce the environmental destruction resulting from gold mining, one of the planet's most polluting industries.
If the scale of Ms. Small's approach is more modest, her ambitions are not. The gold in the pendants she has formed into organic shapes and then slung from lengths of woven alpaca, are obtained from a mine certified as fair trade by the Association for Responsible Mining and are forged into jewelry by a traditional goldsmith in La Paz, Bolivia.
"It's very hard to export unworked gold," she explained. "So we found a traditional craftsmen to make our things there."
The "green" gold mine that Ms. Small buys from is a flyspeck in relation to the major producers, and some might express skepticism at the likelihood that huge mining conglomerates will soon end their reliance on chemicals like mercury, arsenic and cyanide to separate gold from ore.
Pippa Small is persuaded otherwise.
"Oh, it will change," she said. "It will, it will. Shortly."