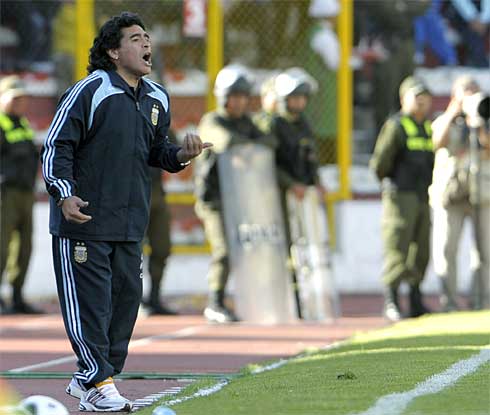 (above) Argentina coach Diego Maradona shouts to his players during a 6-1 loss at Bolivia. Photo: Juan Mabromata, AFP/Getty Images
Bolivia crushes Argentina 6-1 in qualifying
April 2, 2009 - USA Today

LA PAZ, Bolivia (AP) -- Argentina suffered its worst defeat in World Cup qualifying when it wilted 6-1 against Bolivia at high altitude on Wednesday.
The result eclipsed the 5-0 defeat against Colombia in 1993 and ruined the early promise shown under coach Diego Maradona, who had earned three victories in three games with no goals conceded since he took over last November.
Bolivia, second to last in the South American race, was celebrating only its sixth ever win over Argentina -- all at home -- and first since 1997.
The Bolivians matched their most goals against Argentina by halftime, when they led 3-1 at Hernando Siles Stadium.
Joaquin Botero claimed a hat trick in the 33rd, 56th and 66th minutes.

Marcelo Martins opened the scoring for Bolivia in the 12th, and Luis Gonzalez equalized after 24 minutes.
Naturalized Brazilian Alex Da Rosa and Didi Torrico also scored for the home side.
Will be updated with more South American qualifying games
Copyright 2009 The Associated Press. All rights reserved. This material may not be published, broadcast, rewritten or redistributed.