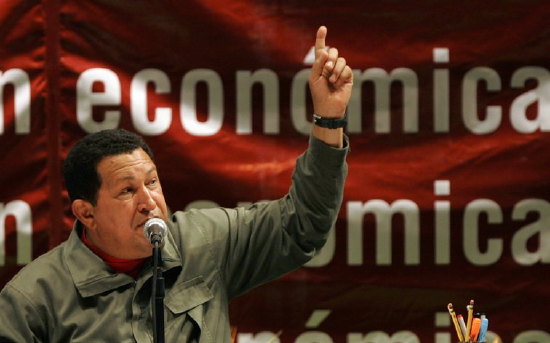 (above) Venezuela's President Hugo Chavez delivers a speech in Caracas in February. Mr. Chavez has been nationalizing companies and spreading his leadership ideas to other countries. (Photo: Associated Press)
U.S. companies mull doing business in Latin America
April 6, 2009 - The Washington Post

Martin Arostegui
SANTA CRUZ, Bolivia | Some Latin American countries ruled by leftist governments are giving U.S. companies in the region a tough choice: They must either change their ways of doing business or pull out altogether.
Populist-inspired violence and government-led takeovers have taken a toll in Venezuela and Bolivia, which have tightened government control of natural resources and forced some multinational companies to renegotiate contracts.
In addition, nations have joined a trading bloc formed by Venezuelan President Hugo Chavez, partly to counter U.S.-led initiatives to create a hemispheric free-trade zone. Moreover, the recession plus the accompanying fall in commodity prices have made the business environment for American companies even worse.
"U.S. and European companies will try to sell their Latin American assets," says a report by the international risk consulting group, Kroll Associates, which predicts a "major exit of foreign capital" and "cancellations" of large projects in Latin America.
"Many companies are pulling out because declining economic benefits no longer justify the level of political risk," John Price, the report's author, told The Washington Times.
President Obama is likely to confront the deteriorating business environment when he attends a hemispheric summit next month in the Caribbean nation of Trinidad and Tobago.
In power for the past decade, Venezuela's Mr. Chavez has nationalized the interests of American oil, food and mining giants such as Exxon Mobil Corp., Cargill Inc. and Monsanto Co., as well as BP PLC and Spain's largest bank, Banco Santander S.A. He has used his nation's oil wealth to encourage regional allies to follow his lead.
More than half a dozen governments have joined his trade group called the Bolivarian Alternative for the Americas or otherwise tried to implement his socialist model of state control and ownership.
(below) Peru's Achuar ethnic group holds a protest before the Congress in Lima in 2007. Native demands are driving changes in relationships with U.S. and other nations' companies in parts of Latin America. (Photo: Agence France-Presse/Getty Images)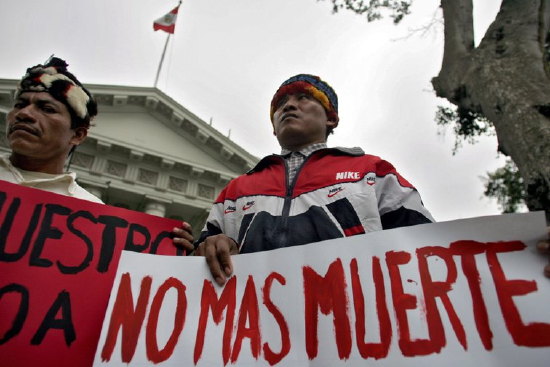 The Farabundo Marti National Liberation Front (FMLN), a one-time Marxist guerrilla group, won recent presidential elections in the Central American country of El Salvador, which had been considered a staunch U.S. ally. Leftist leaders with an anti-American tilt have also taken over in Ecuador and Nicaragua.
"We need to play by the new rules if we want to stay in these countries," says William A. Petty, president of Franklin Oil, Gas & Mining Inc., a medium-sized Texas company operating in Bolivia, Argentina and Ecuador.
Mr. Petty argues that the shifting business environment presents an opportunity for smaller companies like his, which hopes to expand mining operations in Bolivia, despite a new constitution introduced by President Evo Morales that enshrines state ownership of natural resources.
Mr. Morales frequently criticizes foreign businesses with words that have come to resemble a slogan: "We want partners, not owners."
He speaks of a relationship with foreign companies in which a greater share of revenues would be shared with the state. Mr. Morales has also accused foreign companies of looting Bolivia's hydrocarbon and mineral wealth through corrupt dealings with past governments.
Mr. Petty's company has agreed to work by Bolivia's new investment laws that grant the government 50 percent of profits.
Perhaps more important, his company embraces some of Mr. Morales' social objectives by financing health services, schools and other welfare projects for Bolivian Indian communities that surround its gold, lead and zinc mines in the Andean high plateau.
"It's important to keep the Indians happy. It's the best protection you've got," says Mr. Petty.
Mr. Morales, Bolivia's first Indian president, was elected in 2005 by focusing his campaign on the ethnic divide between impoverished Indians and better-off Bolivians of European descent.
Vigilante takeovers of mining installations during Mr. Morales' term have forced most of Mr. Petty's competitors, including Apex Silver Mines Ltd., to pull out of the country. Apex was formerly owned by international financier George Soros.
"There are companies that are small and entrepreneurial and feel that they have a strong enough relationship with the government to remain," said Mr. Price of Kroll. "Nationalizations have often targeted companies that try to amortize their existing investments instead of increasing them."
Franklin Oil, Gas and Mining was recently contacted by Ecuador's government, which is looking for partners to operate oil fields expropriated from U.S. giant Occidental Petroleum Corp.
"We try to supply the latest technology in terms agreeable to local demands," said Mr. Petty.
(below) Peruvian President Alan Garcia speaks in 2007 during the signing of agreements with companies from the U.S., Canada, Russia and other countries for oil and mineral rights. (Photo: Getty Images)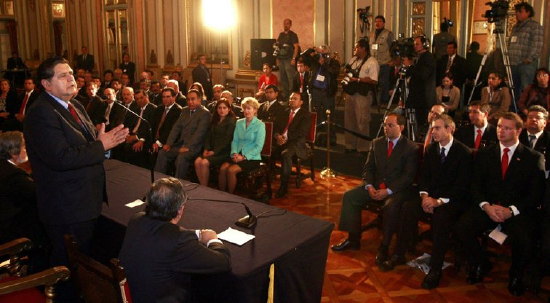 Meanwhile, investments from nations such as Iran and Russia, which are on less than friendly terms with the United States, have gained ground in Latin America. Mr. Morales recently signed up to $1 billion in energy, food and mining ventures with Iran, which stipulate the joint administration of natural resources.
Bolivia and Venezuela have granted Russia's state-owned oil company Gazprom major oil and gas concessions.
"These governments can monopolize any sector of the economy which they designate as a public necessity," said Oswaldo Barriga, president of Bolivia's association of private exporters, CADEX. "Companies have no legal protection."
"Violent activism promoted by these governments is scaring … everybody," said Jim Bibb, managing director of Ballyco, an oil-and-gas service company.
He said that recent peasant takeovers of the homes of government opponents such as Victor Hugo Cardenas, a one-time vice president of Bolivia, may have paralyzed a planned $250 million investment by a European consortium.
"One has to know how to navigate through these shoals," said Franklin's Mr. Petty. "They need people who have the technology and know how to operate mines and oil fields and are beginning to realize that."