(above) Bolivia's President Evo Morales looks on at the presidential palace as he sets a hunger strike in La Paz, Thursday, April 9, 2009. Morales declared himself on a hunger strike demanding opposition congressmen to approve a law that will open the path for December general elections. (AP Photo/Juan Karita)
Bolivian president announces hunger strike
April 9, 2009 - Associated Press
By CARLOS VALDEZ
LA PAZ, Bolivia (AP) — President Evo Morales announced he was starting a hunger strike on Thursday to pressure Bolivia's congress to set a firm date for general elections that are likely to return him to power.
Bolivia's opposition-led Senate has failed to approve a law to handle the elections, which are mandated by a Morales-backed constitutional reform approved by voters in January.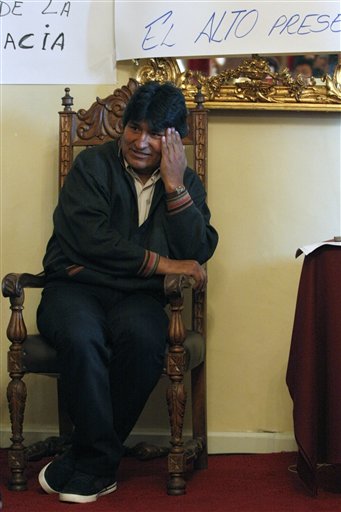 (below) Bolivia's President Evo Morales sits at the presidential palace as he sets a hunger strike in La Paz, Thursday, April 9, 2009. (AP Photo/Juan Karita)

The socialist president, who took office in 2006, has suggested opposition leaders are trying to block the planned December elections with delaying tactics.
He told reporters Thursday he was starting the strike "to defend the vote of the people."
Fourteen leaders of labor and social groups said they were joining the president on the hunger strike.
They did not say how rigorous it would be, but such protests in Bolivia usually involve taking water and chewing coca leaves, which help ward off hunger pangs. Morales rose to prominence as leader of a coca-growers' union.
The election bill has been held up by demands for an updated voter registry, by arguments over whether Bolivians living outside the country should be able to vote and over a dispute about the number of seats in congress that should be assigned to indigenous groups.
Under the new constitution that took effect in January and aims to further empower Bolivia's long-suppressed indigenous majority, congress was supposed to enact the elections law by Thursday.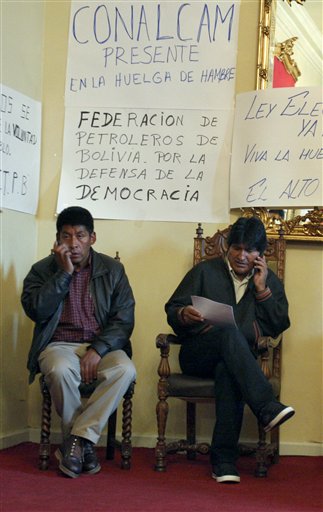 (right) Bolivia's President Evo Morales, right, talks on his mobile phone at the presidential palace as he sets a hunger strike in La Paz, Thursday, April 9, 2009. Morales declared himself on a hunger strike demanding opposition congressmen to approve a law that will open the path for December general elections. The man at left is Fidel Surco, secretary general of Bolivia's National Confederation of Leaders for the Change, CONALCAM. (AP Photo/Juan Karita)
Bolivians are to vote for president and a new congress.
Morales, Bolivia's first indigenous president, is considered a favorite to win re-election over a fractured opposition.