Bolivia's President Cancels Trips to Regional Summits
April 14, 2009 - Latin American Herald Tribune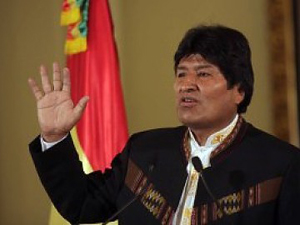 LA PAZ-- President Evo Morales said on Sunday that he had cancelled his trips to the ALBA summit and the Summit of the Americas because of Bolivia's internal problems caused by the conflict with the opposition over a law regarding the Dec. 6 elections.
Morales made the announcement during a telephone conversation with his Venezuelan counterpart, Hugo Chávez, who called a Bolivian state television program where the hosts were interviewing the Bolivian president.
Chávez expressed his support for Morales, who has been on a hunger strike for four days.
Morales had been scheduled to participate on Wednesday in the Bolivarian Alternative for the Americas, or ALBA, summit, which will be held in Caracas, and had planned to travel the next day to the Summit of the Americas in Trinidad and Tobago.
"I decided not to travel to either the ALBA summit or to the Summit of the Americas. We're going to fight this battle, which in any case is ... (between) the oppressed peoples and the oligarchic groups," Morales told Chávez, referring to the internal conflict in Bolivia.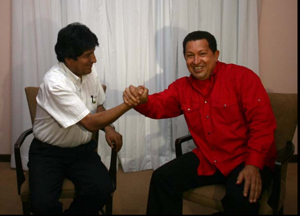 Morales began a hunger strike last Thursday at the government palace in La Paz along with 14 union leaders to pressure the opposition to approve an electoral law that will allow the Dec. 6 elections.
The Bolivian leader will run for reelection in that balloting.
On that day, Thursday, the opposition walked out of Congress complaining that the government had not respected the agreements on the electoral law and demanding-- as a condition for returning to Congress-- that the administration accept the idea of making a new registration of voters, something to which Morales eventually agreed.