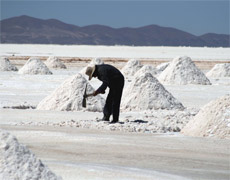 (above) A worker extracts the salt from the salar to be processed. Photo / Derek Cheng
Photos of Bolivia' Salar de Uyuni
Bolivia: Season full of surprise
June 09, 2009 - New Zealand Herald
By Brett Atkinson

I tried my best to resist. Really, I did. But half an hour after checking in, I had started licking the walls and the bed in my hotel room.
Why? Welcome to Bolivia's Hotel Palacio de Sal, where everything is made from pristine, sparkling salt. Relax on chunky Flintstones-style chairs in the bar or feast on grilled llama steaks on the giant shared dining tables. All the while, run your feet lazily through the silky smooth crystallised salt that covers the floor. And if you do break any of the furniture, you can pop outside and make yourself a new bedside table.
The Hotel Palacio de Sal is just one of the features of the remarkable Salar de Uyuni near Bolivia's western border with Chile. The world's biggest salt flat covers 10,500 sq km and stretches to every horizon with "islands" studding a shimmering and perfect landscape.
I'm here in April during the dry season, and the salt has a soft crust somewhere between a meringue and coconut ice.
From November to March, the Salar is covered in a slick veneer of water and everything is perfectly reflected in a giant natural mirror.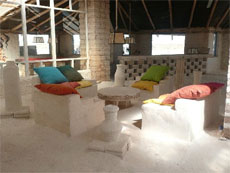 (right) The Hotel Palacia de Sal is made from salt. Photo / Brett Atkinson

Local villagers harvest the salt to the tune of 20,000 tons a year, and it's estimated there's at least 10 billion tons remaining. Don't expect any discussion of a nine-day fortnight here. But if they do tire of extracting salt, the Salar de Uyuni also has more than 50 per cent of the world's lithium deposits.
When the automotive industry finally gets around to developing efficient, electric cars, it's reckoned Bolivia's lithium will provide the raw materials for the cars' batteries. Little wonder then, that Bolivia's socialist president, Evo Morales, has been telling eager overseas capitalists, "Hands off our lithium".
Right now, however, salt is still the biggest game in town, with Uyuni's scruffy, sprawling suburbs gradually giving way to a singular landscape of salt mounds drying in the Altiplano sun.
It's a surreal image, made more bizarre by herds of llamas grazing at the edge of the salt flats, and the rusting array of locomotives and trains that make up Uyuni's Train Graveyard.
The trains used to transport the output of Uyuni's first boom 50 years ago before decades of political and economic instability slowed down production. Now the rusting hulks are a blank photographic canvas for backpackers on South America's gringo trail. Cobalt blue skies and greying expanses of salt provide an elemental backdrop to the oxidised hulks.
Further out on the salt flats, the colour palette is even more fundamental, with our red 4WD sandwiched emphatically between intense blue and pristine white.
We stop halfway across the vast expanse and establish a mini-picnic stop with a folding table and camp chairs. If you have ever wondered what an alfresco meal would be like on an alien planet, then here's your chance.
Later that night at the Hotel Palacio de Sal, the area's natural bounty is also put to good use. It's the preferred emphasis to the Pisco Sour cocktails on offer, and each Margarita glass is also delicately dipped into Uyuni's white powder.
It's a combination that's gradually making the posse of retired Pan Am flight attendants staying at the hotel more and more animated.
I'd met them earlier in the day on the hotel's golf course, all bouffants, bobs and slightly faded 1970s glamour.
They'd be perfect on a Palm Springs golf course with the ghost of Frank Sinatra, but in Bolivia a few of them are making do with chasing Day-Glo golf balls around the Hotel Palacio de Sal's bizarre alternative. Others are undertaking an afternoon exploration of the spa services, with the hotel's signature salt body wrap bookended by a session in the steam room and a massage.
The hotel's six-hole pitch and putt golf course needs to be remade every year after the wet season, and is a challenging collage of crusty, truck tyre tracks, mini saline water traps, and raised "greens" - more of a dirty, grey colour actually - studded with dinky flags.
A llama statue made from salt is an additional obstacle. In the fast-fading Bolivian dusk, it resembles a guardian of the salt flats stretching unencumbered to the craggy mountainous profile of Volcan Tupuna.
I have my own mountain to climb on the golf course. The Day-Glo balls make my task slightly easier, but the monochromatic landscape is still very adept at swallowing my approach shots. By the time I'm on the "greens", I'm reminded that my true handicap in golf is a lack of talent.
I'm more confident at the dining table - and I'm looking forward to grilled llama with my new "trolley dolly" friends. Served on huge platters and simply seasoned with you know what, it's incredibly lean and tender. White-gloved waiters carve off medium-rare steaks that are best served with spicy chimichurri salsa, the local Andean grain quinoa, and red wine from across the border in Chile.
Combined with the 4000m altitude and a few robust Pisco Sours, I briefly consider scooping up a salty souvenir from the floor.
I'd love to bring home a few of the pristine crystals, but I'm not sure if importing white powder from Bolivia is such a good idea.
Brett Atkinson travelled to Bolivia courtesy of the House of Travel.