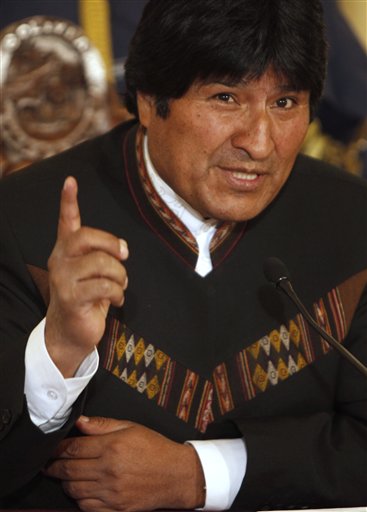 (above) Bolivia's President Evo Morales speaks during a press conference in La Paz, Wednesday, July 1, 2009. Morales called President Barack Obama "the new policeman", and accused him of lying to Latin America after his administration extended a decision to suspend trade preferences for Bolivia, made six months ago by former President George Bush. (AP Photo/Dado Galdieri)
Bolivia leader says Obama 'lied' about cooperation
July1, 2009 - Associated Press
By CARLOS VALDEZ
LA PAZ, Bolivia (AP) -- President Evo Morales on Wednesday accused Barack Obama of lying by pledging to end U.S. interventionism and then halting trade benefits that saved Bolivia about $25 million a year.
The U.S. Trade Representative announced Tuesday that it was ending the import duty waivers because world's No. 3 cocaine-producing country is not doing enough in the war on drugs, leaving "unconstrained" coca cultivation.
Morales told reporters that the restored tariffs belie Obama's promise at the Summit of the Americas in April to be a peer rather than an overseer of countries in the region.
"President Obama lied to Latin America when he told us in Trinidad and Tobago that there are not senior and junior partners," said Morales.
The former coca-growers' union leader, who expelled U.S. drug agents from his country last year, said some of the reasons the trade office cited for its decision were "pure lies and insults."
Bolivia has said restoring the tariffs would cost the impoverished country about 20,000 jobs in industries that rely heavily on exports to the U.S., such as textiles and leather.
The head of the Bolivian Foreign Trade Institute, Gary Rodriguez, told The Associated Press that Bolivia has had limited success in trying to compensate for the anticipated loss of U.S. markets and that he expected Tuesday's announcement to lead to layoffs.
(below) Bolivia's President Evo Morales speaks during a press conference in La Paz, Wednesday, July 1, 2009. Morales called President Barack Obama "the new policeman", and accused him of lying to Latin America after his administration extended a decision to suspend trade preferences for Bolivia, made six months ago by former President George Bush. (AP Photo/Dado Galdieri)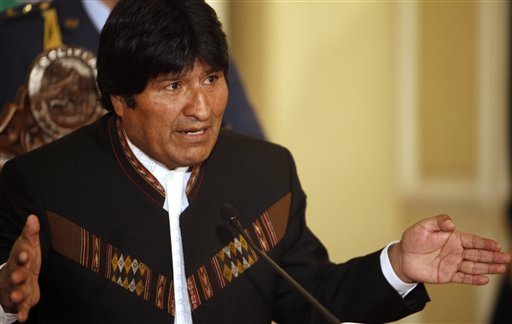 "Neither Venezuela, Iran, Argentina or even Brazil have so far worked as alternative markets," he said.
Venezuela had promised to buy $13 million in goods over the past year but the La Paz exporter's association, CAME, said Venezuela lacks the U.S. dollars to pay for them.
In a document published on its Web site, the U.S. trade office said there has been "explicit acceptance and encouragement of coca production at the highest levels of the Bolivian government."
The office also said it was extending tariff exemptions for Ecuador for another six months as part of the Andean Trade Preference Act. Peru, Colombia and Ecuador will see those duty-free privileges expire at year's end.
The region's cocaine-producing and transit countries have been allowed to export thousands of products to the United States duty-free since 1991 in hopes income from legal exports will help wean peasants off selling coca, the basis of cocaine.
Morales acknowledged Wednesday that coca cultivation is up in Bolivia -- by 6 percent last year by U.N. survey -- but said the government was making a good-faith effort to control its expansion.
Landlocked Bolivia exports most of its cocaine to Europe through Brazil and Argentina, according to the DEA.
The trade office said the DEA previously had 57 employees in four Bolivian cities, making the country a headquarters for the southern part of South America. Those agents are now spread elsewhere across the region, leaving what U.S. law enforcement officials call a black hole in Bolivia.
The U.S. government estimates Bolivia's potential cocaine yield at 195 metric tons.
Associated Press Writer Frank Bajak in Bogota, Colombia, contributed to this report.