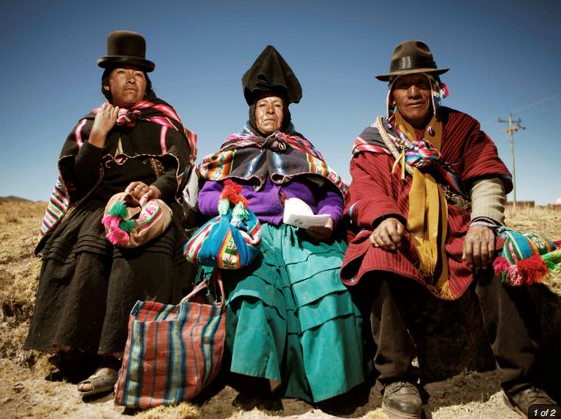 (above) Aymara people attend a farming workshop in Jesus de Machada, one of 12 Bolivian municipalities whose inhabitants will vote Dec. 6 on becoming autonomous. Photos: ASSOCIATED PRESS PHOTOGRAPHS
Political awakening emboldens Indians
November 10, 2009 - Washington Times

Frank Bajak ASSOCIATED PRESS
JESUS DE MACHACA, Bolivia
In Ecuador, the Shuar are blocking highways to defend their hunting grounds. In Chile, the Mapuche are occupying ranches to pressure for land, schools and clinics. In Bolivia, a new constitution gives the country's 36 indigenous peoples the right to self-rule.
All across Latin America, and especially in the Andes, a political awakening is emboldening Indians who have lived mostly as second-class citizens since the Spanish conquest.
Much of it is the result of better education and communication, especially as the Internet allows native leaders in far-flung villages to share ideas and strategies across international boundaries.
But much is born of necessity: Latin American nations are embarking on an unprecedented resource hunt, moving in on land that Indians consider their own and whose pristineness is key to their survival.
"The Indian movement has arisen because the government doesn't respect our territories, our resources, our Amazon," says Romulo Acachu, president of the Shuar people, flanked by warriors carrying wooden spears and with black war paint smeared on their faces.
Last month, the Shuar put up barbed-wire roadblocks on highway bridges in Ecuador's southeastern jungles to protest legislation that would allow mines on Indian lands without their consent, and put water under state control. On Sept. 30, an Indian schoolteacher was killed in a battle with riot police.
(below) A man carries a cooking gas canister near the village of Jesus de Machaca, Bolivia. Indian power is evident in Bolivia, which in 2006 elected Evo Morales, its first indigenous president.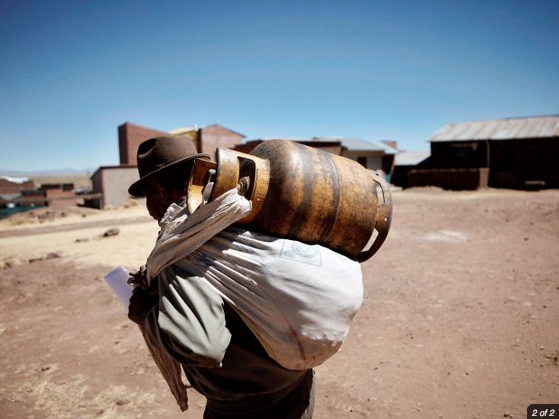 "If there are 1,000 dead, they will be good deaths," says another Shuar leader, Rafael Pandam.
The Shuar won, at least this round.
A week after the killing, President Rafael Correa received about 100 Indian leaders at the presidential palace and agreed to reconsider the laws. Mr. Correa had earlier called the Indians "infantile" for their insistence on being consulted over mining concessions. But he didn't need to be reminded that natives - a third of the population - helped topple Ecuadorean governments in 2000 and 2005.
Indians make up one in 10 of Latin America's half-billion inhabitants. In some parts of the Andes and Guatemala, they are far more numerous.
Yet they remain much poorer and less educated than the general population. About 80 percent live on less than $2 a day -- a poverty rate double that of the general population, according to the World Bank -- while some 40 percent lack access to health care.
The threats to Indian land have grown in recent years. With shrinking global oil reserves and growing demands for minerals and timber, oil and mining concerns are joining loggers in encroaching on traditional Indian lands.
"Indians have been progressively losing control and ownership of natural resources on their lands," says Rodolfo Stavenhagen, a prominent Mexican sociologist who spent most of the past decade as the U.N.'s chief advocate for Indians. "The situation isn't very encouraging."
Hence the revolt rippling up and down the Andes.
In Peru, south of the Shuar's lands, the government has divided more than 70 percent of the Amazon into oil exploration blocks and has begun selling concessions. Fearing contamination of their hunting and fishing grounds, Indians last year began mounting sporadic road and river blockades.
On June 5, riot police opened fire on Indians at a road blockade outside the town of Bagua, where jungle meets Andean foothills. At least 33 people were killed, most of them police. The Indians were unapologetic for resisting.
"Almost everything we have comes from the jungle," says one of the protesters, a wiry elementary school teacher from the Awajun tribe named Gabriel Apikai. "The leaves, and wood and vines with which we build our homes. The water from the streams. The animals we eat. That is why we are so worried."
Farther south along the world's longest mountain chain, Chilean police are protecting 34 ranches and logging compounds that Mapuche Indians have targeted for occupations or sabotage.
The Mapuche, who dominated Chile before the Spanish conquest, now account for less than 10 percent of its people and hold some 5 percent of its land among of the least fertile.
Mapuche activists agitating for title to more lands and greater access to education and health care stepped up civil disobedience this year. In August, riot police mounting an eviction killed one Mapuche, and eight were injured.
"If the government and the political class doesn't listen to our demands the situation will get a lot more difficult," Mapuche leader Jose Santos Millao told the Associated Press in Santiago. He rejects as a "smoke screen" President Michelle Bachelet's creation of an Indian Affairs Ministry in September.
Nowhere is Indian power so evident as Bolivia, which elected its first indigenous president, Evo Morales, in 2006. Mr. Morales dissolved the Ministry of Indigenous Affairs and Original Peoples, calling it racist in a country where more than three in five people are aboriginals.
In February, voters approved a constitution that creates a "plurinational" state and accords Bolivia's natives sovereign status.
In the capital of La Paz, "cholitas" -- Indian women in traditional bowler hats and embroidered shawls -- now regularly anchor TV newscasts. "Miss Cholita" beauty pageants are in vogue and native hip-hop stars headline at nightclubs.
"There is no way to return to the past," says Waskar Ari, an Aymara who changed his name to Juan in the 1970s so he would be accepted to a private high school in La Paz. Now a University of Nebraska professor, he likens his country's "rebirth" to the casting off apartheid on another continent two decades ago.
"Finally," he says proudly, "Bolivia is no longer the South Africa of Latin America."
Still, Indians remain second-class citizens in much of Latin America.
No indigenous representative has ever been elected to the national congress in Brazil, where Indians occupy vast areas of the Amazon though they account for less than 5 percent of the population.
In Guatemala, where nearly half the population is of Mayan descent, not a single Indian has ever made it to national office.
Braulio Cusi, deputy mayor of Jesus de Machaca is a hardscrabble farming town near Bolivia's Lake Titicaca that is more than 96 percent Aymara Indian. It is among 12 Bolivian municipalities, mostly Aymara and Quechua, whose inhabitants will vote Dec. 6 on becoming autonomous. Under self-rule, they would legalize governing practices that precede the Inca empire.
Mr. Cusi says autonomy will hugely benefit a community where nearly all the 13,700 residents live in adobe brick homes and use cow manure as cooking fuel, where most homes lack running water and babies are born at home because there's no hospital or clinic.
"Before, we were forgotten," Mr. Cusi says after watching the banner of Bolivia's indigenous peoples raised up a flagpole in the shadow of an imposing Spanish colonial church.
"Now we're going to define, in our way, how we live according to our own customs and practices."