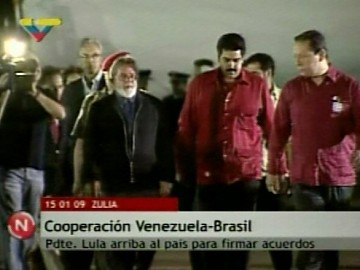 Venezuela's Chavez and Brazil's Lula Urge Obama To Take New Tack in Latin America
January 17, 2008 - Latin American Herald Tribune

In addition to calling for U.S. President Obama and Venezuelan President Chavez to meet -- and offering his services as a mediator and go-between -- Brazil's president asks the U.S. to address the financial meltdown "as soon as possible" and not "allow the countries of Latin America and the Caribbean that depend on exports to the United States to suffer from the crisis."
MACHIQUES, VENEZUELA -- Venezuelan leader Hugo Chavez and Brazil's Luiz Inacio Lula da Silva signed a dozen cooperation accords here Friday and urged the incoming U.S. administration to chart a new course for relations with Latin America.
Since 2007, the two president have held quarterly working meetings, usually at spots outside the countries' respective capitals.
"Only union will make us independent," Chavez said during the encounter in Machiques, a town in the western Venezuelan state of Zulia.
Noting that Lula has only two years left in office, the Venezuelan said Latin American leaders committed to regional integration need "to pick up the pace."
Along those lines, Chavez said high-level officials from both countries will be meeting in the coming weeks to ensure that joint projects stay on track and on schedule.
The pacts signed Friday call for expanded cooperation and technology sharing, particularly in the fields of agriculture and energy.
Chavez said Venezuela "would like to join" the mechanism established by Brazil and Argentina to allow bilateral trade to be conducted in their own currencies rather than the dollar.
Asked about the Brazilian Senate's delay in ratifying Venezuela's accession to the Mercosur trade bloc, now comprising Argentina, Brazil, Uruguay and Venezuela, Lula predicted the senators would act "no later than March."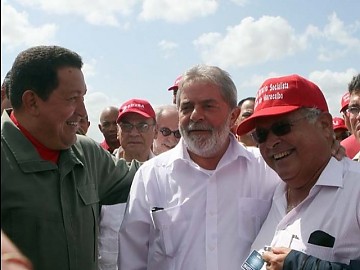 Turning to broader issues, Lula said he hoped that U.S. President-elect Barack Obama would realize he has to address the financial meltdown "as soon as possible" and that Washington "cannot allow the countries of Latin America and the Caribbean that depend on exports to the United States to suffer from the crisis."
Addressing Chavez, the Brazilian said: "I think that at some point you and Obama will have to meet ... because I don't see Obama as just any president."
"That a black man has been elected president of the United States is an extraordinary gesture," Lula said, and Obama "should transform that gesture of the U.S. people into a gesture for Latin America ... respecting our sovereignty and an equitable coexistence."
Chavez, however, was less sanguine about prospects for improvement in the region's relationship with the United States.
"I don't have many hopes - though I haven't lost them - above all when a statement from Obama just came out saying the same thing as (outgoing President George W.) Bush," the socialist Venezuelan leader said.
Obama, Chavez added, has said that Venezuela is a negative factor in the region and that Caracas supports armed rebels in neighboring Colombia.
Chavez, whose oil-rich nation is a key supplier of crude to the United States, accuses Washington of complicity with an abortive 2002 coup against him and views the millions of dollars Venezuelan opposition groups receive from U.S. public entities as interference.
By the same token, U.S. officials denounce Chavez as an autocrat who undermines "stability" in Latin America.
But Lula, despite his own radical pedigree as a one-time Trotskyite union leader, has had cordial relations with the Bush administration and is seen as well-placed to help effect a rapprochement between Washington and outspoken Latin American leftists such as Chavez and Bolivia's Evo Morales -- something he has offered.