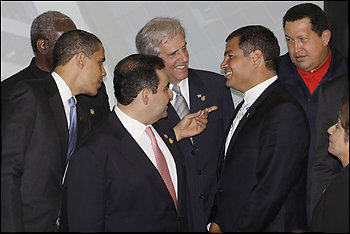 (above) Gathered for a group portrait of hemispheric leaders are, from left, President Obama, El Salvador's Elias Antonio Saca, Uruguay's Tabaré Vázquez, Ecuador's Rafael Correa, Venezuela's Hugo Chávez and Chile's Michelle Bachelet. (By Andres Leighton -- Associated Press)
Race a Dominant Theme at Summit
April 19, 2009 - Washington Post
Subject Seen as Drawing Leaders Closer
By Scott Wilson, Washington Post Staff Writer

PORT-OF-SPAIN, Trinidad and Tobago, April 18 -- In presenting himself at a summit here as an equal partner to Latin America, President Obama is drawing on his race as evidence of U.S. social progress and of his own affinity for the region's poor.
Race occupies a far larger and more troubled place in Latin American politics than it does in Europe, where Obama rarely mentioned his ethnic background this month during his first overseas trip as president.
He is doing so more often here at the Summit of the Americas, in part to push an agenda that, among other issues, seeks to address the region's income disparity between rich and poor, the widest in the world.
In talking about his race and the backgrounds of his counterparts, Obama is associating himself more closely than his predecessors did with Latin America's indigenous, black and mixed-race underclass, which has long identified the United States with economic policies that benefit the elite of European descent far more than them.
The approach has helped to reduce, though not eliminate, the expected political strife between Obama and such populist leaders as Venezuela's Hugo Chávez and Bolivia's Evo Morales, the first indigenous president of his country.
Those men explicitly mentioned Obama's race in a closed-door meeting Saturday as a sign that U.S. policy toward the region may change, according to several U.S. and Latin American officials who attended.
President Luis Inácio Lula da Silva of Brazil, a former union leader and political prisoner, and President Michelle Bachelet of Chile, one of the hemisphere's two elected female leaders, said in a separate private meeting Saturday that the region's diversity should be more fully appreciated with the presence of the first black U.S. president.
"The president put it on the table very explicitly" at the opening ceremony, said a senior Obama administration official who participates in closed-door meetings with the president. "Inequity in this hemisphere is extreme, and a hemisphere blessed with a lot of resources should not be suffering the way it is. Race is a part of that in many cases."

'Part of Who He Is'
The meeting rooms and hallways of the seaside hotel where the summit is taking place showcase an array of ethnicities -- black delegations of the Caribbean; indigenous representatives of some Andean nations; whites, blacks and Latinos from the United States and Canada.
In his opening speech, Obama said, "We have to stand up against any force that separates any of our people from that story of liberty -- whether it's crushing poverty or corrosive corruption; social exclusion or persistent racism or discrimination.
"Here in this room, and on this dais, we see the diversity of the Americas," Obama said. "Every one of our nations has a right to follow its own path."
In recent decades, the left represented by Chávez, Morales and Nicaragua's Daniel Ortega, who delivered a speech highly critical of the United States on opening night, has been lifted by an anti-American populism held most strongly by indigenous and mixed-race populations.
"As you go around the globe, there are many different ways of saying it and a different need to say it, but it follows him internationally wherever he goes," said James L. Jones, Obama's national security adviser, who also accompanied the president on his European trip.
"It is part of who he is," said Jones, referring to Obama's race. "It may not be fair in a way, carrying the hopes of millions of other people from around the world. And in a few years his words will be measured against his achievements, and that will be the acid test."
Latin America's Wounds
In a meeting Saturday with leaders of UNASUR, an association of South America's 12 countries, Obama spoke for less than a minute before saying he preferred to listen, said a senior Latin American diplomat in the room.
Chávez and Morales each mentioned Obama's race in their remarks -- Chávez as a sign that he might more closely identify with the region's poor, Morales in more skeptical tones. Morales expelled the U.S. ambassador and the U.S. Drug Enforcement Administration from his country last year.
"Chávez said explicitly, here we have a black president," said a Canadian official who attended the meeting but was not authorized to discuss the closed-door event.
"Morales said to [Obama], 'I can see publicly that there has been a change, that you have learned' -- and then he mentioned his race -- 'but that the actions of your people on the ground in my country are no different,' " the official said.
Before the meeting, Chávez handed Obama a book, "Las Venas Abiertas de America Latina," or "The Open Veins of Latin America." The work, published in the 1970s, is by Uruguayan writer Eduardo Galeano. It discusses the history of European colonization and what Galeano sees as the malign influence of the United States.
In an interview with the radio program "Democracy Now" soon after Obama's election, Galeano said: "The White House will be Barack Obama's house in the time coming, but this White House was built by black slaves. And I'd like, I hope, that he never, never forgets this."
The senior Latin American diplomat said: "I see many of the others making a point of his race. . . . I don't see him doing it nearly as much."
'Global Consensus' Sought
Obama has mentioned his race as part of a Latin America agenda broader than the Bush administration's, which focused primarily on promoting an economic policy of free trade, government privatizations and lower public debt. The mix became known as the Washington Consensus, a term used as an epithet in much of Latin America.
The last Summit of the Americas, in 2005, was dominated by differences over trade, which the Bush administration saw as the best way to promote economic growth.
But much of the region's recent growth has been driven by exports of natural resources, often controlled by small groups of families or foreign companies. The income gap has widened in some countries.
By contrast, Obama announced Saturday that the United States will contribute to a new $100 million micro-finance loan program for the region. And during a meeting with 14 Caribbean leaders the previous evening, he said "bottom-up growth" should be the approach each leader takes to reduce poverty, a senior administration official said.
"It's pretty clear that what President Obama is working toward is a global consensus," said Lawrence H. Summers, director of the White House's National Economic Council. "When you have a storm like this one, you need a collective recognition that the poor need help, not more policy hectoring."