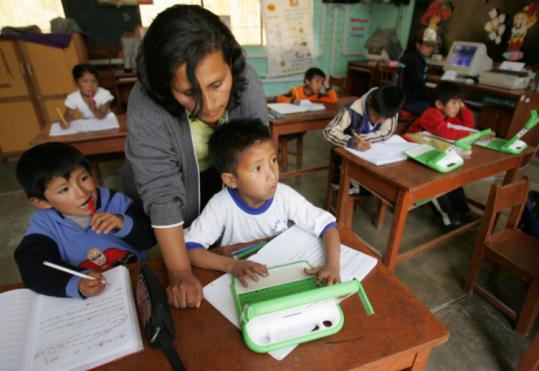 (above) Students like these in Arahuay, Peru, benefited from One Laptop Per Child, but the program has had to cut its staff. Students like these in Arahuay, Peru, benefited from One Laptop Per Child, but the program has had to cut its staff. (Martin Mejia/Associated Press/File 2007)
Fund loss staggers group giving laptops to poor children
January 9, 2009 - Boston Globe

By Hiawatha Bray, Globe Staff
The Cambridge foundation that sought to transform developing countries by giving free laptop computers to poor children suffered a devastating loss of revenue last year and has been forced to slash its staff in half.
Discuss
COMMENTS (28)
"The economic downturn hit us like everybody else," said Nicholas Negroponte, the Massachusetts Institute of Technology professor who founded the One Laptop Per Child Foundation. The foundation laid off 32 of its 64 workers and cut pay for the rest.
A wave of cheap laptops has come to the market since Negroponte's foundation introduced a no-frills machine in 2007. Similar "netbooks," modest laptops from companies like Dell Inc. and the Hewlett-Packard Co. that sell for as little as $300, became commonplace last year.
"We're not the newest story in town," said Negroponte. "The novelty has worn off."
The result was a massive decline in money raised by the foundation's Give One Get One program, launched in 2007 to promote sales and donations of the $200 laptop. During the 2008 holiday season, the program sold only about 12,500 laptops and generated a mere $2.5 million - a 93 percent decline from the year before. "That was a real shocker," said Negro ponte, adding that it forced the foundation to slash its $12 million annual budget. "We will reduce ourselves to running at closer to $5 million," he said.
Negroponte, who founded MIT's Media Lab and left to start the foundation, first announced the cuts in a blog posting Wednesday on the website, blog.laptop.org.
Negroponte said the foundation also will spin off its operation in Latin America and would no longer work directly on further development of the operating software used on its own computer. He described the moves as a restructuring that would refocus the group's mission on distributing its laptops in sub-Saharan Africa, the Middle East, Afghanistan, and Northwestern Pakistan and on creating a second-generation computer.
"We're going to keep going and we're going to expand," he said. But the development of a new laptop could be disastrous for the foundation's future, according to Ivan Krstic, former director of software security. Krstic said that with cheap netbook computers now widely available, any new machine developed by the foundation would place it in competiton with multinational giants. "At this point, I think it's completely the wrong thing to focus on," he said.
Walter Bender, who oversaw software development at the foundation until his resignation in May, also criticized the plan for a new foundation laptop.
"That shouldn't be the focus of OLPC any more," said Bender, who now runs Sugar Labs, an organization that develops the user interface software on the nonprofit's laptop. He believes the foundation should make high-quality educational software and leave hardware development to the major computer makers.
The foundation's green and white laptop, built with such features as long battery life for use where electricity was scarce and a bright screen meant to be viewed in open sunlight, had become symbolic of the program.
The Give One Get One program was designed to encourage Americans to purchase two of the foundation's laptops during the Christmas season and donate one to a poor child. The foundation's larger goal is to have governments in developing countries purchase millions of the computers and distribute them to poor schoolchildren. But only a few countries, such as Peru, Colombia, and Ghana, have signed up for bulk purchases, and only a few hundred thousand machines have been purchased this way.
While Negroponte hoped to distribute millions of laptops, the foundation has so far issued just 585,000, with another 195,000 awaiting delivery to users. The foundation launched Give One Get One to speed up the process and to generate operating revenue for itself.
Give One Get One had a small advertising budget when it was launched in 2007, and distribution problems caused many purchasers to wait months before receiving their laptops. Still, it sold 185,000 laptops and generated $37 million in revenue. The foundation was expecting better things in 2008. Media companies donated between $12 million and $15 million in free advertising, including TV, print, and billboard ads. The giant Internet retailer Amazon.com signed up to handle distribution of the laptops, ensuring that orders would quickly be filled.
But by 2008, the laptop faced new competition. In late 2007, ASUSTeK Computer Inc. of Taiwan introduced the ASUS Eee PC, a sleek, lightweight laptop. With a price as low as $400, the ASUS machine was a major hit, selling more than 1.7 million units in the third quarter of 2008. Soon, rival firms such as Acer Inc., Dell Inc., and Hewlett-Packard Co. were offering similar machines. The rise of competing mini-notebooks and the collapse of the economy took a severe toll on Give One Get One sales.
Analyst Roger Kay, president of Endpoint Technologies Associates Inc. of Wayland, questioned whether the foundation can weather the economic slump.
"They don't really have a business orientation. They have not from the start positioned themselves as a going concern."
As a result, Kay said, he doubts that Negroponte and other foundation managers will be able to guide the foundation through a severe recession. "I would be surprised if they actually survive this period," he said.
Hiawatha Bray can be reached at bray@globe.com.