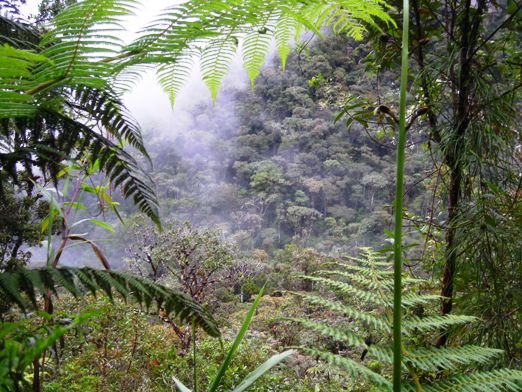 (above) According to Peruvian news source Andina, the Ministry hopes to complete the project by February 20th of this year. They started working on December 13th of last year. That will mean that an average of 512,820 trees will be planted each day over a three month period– an astounding and inspiring example for other countries to follow around the world.
Photo Credit: Yanachaga-Chemillen National Park © Levi T. Novey
Peru Planting 512,820 Trees a Day to Fight Climate Change
January 11, 2009 - ecoworldy.com
Written by Levi Novey
Peru's Ministry of Agriculture has launched an ambitious project. The goal: plant 40 million trees in 3 months to help deter the effects of climate change.
The effects of climate change are already particularly acute and diverse in Peru, a large country endowed with spectacular natural resources, ranging from the Amazon Rainforest, a desert coast, and the iconic Andes mountains. Proactive and radical solutions like this tree planting project are a good start to taking on the problems of deforestation and climate change, despite the challenges that might arise.
The director of the project, Rodolfo Beltran, was quoted as saying that "it hasn't been easy to obtain 40 million trees, then carefully select the areas where they are to be planted, and finally, determine how they are to be maintained." I don't doubt a word he said.
The trees will be planted in 18 of Peru's departments (i.e. states) and will include eucalyptus, pine, cypress, and pepper trees. An estimated 570,000 metric tons of carbon dioxide will be captured by the new trees each year. This type of planting could become profitable for developing countries like Peru, particularly if carbon cap-and-trade initiatives catch on amongst developed countries like the United States.
But the program contains an additional benefit that is more immediate to the people of Peru. 128,000 temporary jobs will be created by the project. After all, who's going to plant those trees? In a country where 39.3% of the population lives in poverty, forcing some people to scavenge through garbage, even temporary jobs can make a huge difference in quality of life and economic development.
Cheers to Peru's Ministry of Agriculture for envisioning such an ambitious project. Here's wishing them much success. We will continue following the story at EcoWorldly and will write about it again when updated information is available.