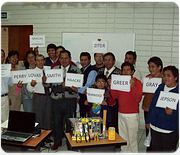 Peru members rebuilding from earthquake
Jananuary 13, 2009 - Mormon Times.com
By Jennifer Francis,Deseret News

Oscar Nilton Velasquez Monterola and his family have lived in a wooden shelter since an earthquake hit Peru's central coast more than a year ago.
"(Our shelter) lacks all the basic services," Velasquez Monterola of Chincha, south of Lima, said of where he, his wife and baby live. "Presently the economy is very difficult (where) we lack the bare necessities and the means to buy building materials to fix our property."
The pace of rebuilding the earthquake-affected cities along the central coast of Peru since the earthquake has been grindingly slow because of a variety of issues including a scarcity of skilled laborers.
Velasquez Monterola is planning to help in the construction of his own home, using skills from vocational training sponsored by The Church of Jesus Christ of Latter-day Saints through the Perpetual Education Fund.
He joined other LDS members who met six nights a week for four hours to train and certify in up to four disciplines of construction including electricity and bricklaying.
In December, 64 graduated from the electricity course and on Jan. 19, about 45 will start a bricklaying class, according to Doug Earl, a service missionary in the disaster area.
Those who complete the training would not only work on their homes but also have the marketable skills in construction that may lead to a steady income.
"To see the needs of my baby and not be able to provide accordingly gives me stress, anxiety and pain in my heart," Velasquez Monterola said. "After I am done with the four courses, I hope many doors will open for me so our financial doom will be solved."
Earl said the students are learning how to build a houses designed to withstand an earthquake through the cooperative venture between the church and SENCICO, a leading technical government-run school in Lima, Peru.
"The government has been very accommodating to us," Earl said. "They're packing all their stuff and bringing their people to our place."
The classes were taught in three earthquake-devastated areas: Canete, Chincha, and Pisco, which was the hardest hit, said Earl. The 8.0-magnitude earthquake leveled most of the port city.
"They have a super attitude, working all day long and willing to work at night," Earl said of the students. "They're coming together as a community."
Although SENCICO has its own school, the travel distance would be cost-prohibitive to many of the potential students. Even with courses taught locally, class location, Earl said, is important for student retention. Twenty students, the majority of them from Pisco, dropped the course in the first week because they could not afford to travel far on public transportation.
"When transportation cost $2 a day and they're making, let's say, $5 a day then transportation becomes a difficult thing," Earl said. "We're changing location in Pisco to make it more convenient for the people."
Initiating an ambitious program in a disaster area is no easy task, requiring local leaders to constantly ascertain changing conditions and respond accordingly, Earl said. Class presidents, such as Velasquez Monterola, keep attendance and inquire about a student's absence, to help with any problems.
"It's really challenging from the communication -- where one out of 10 have e-mail -- to where we meet, (in) makeshift buildings and rooms," Earl said. "I think we must be doing something right since there is some opposition."
Many students are using the Perpetual Education Fund's "Earthquake Loans" to help pay the course tuition, as church leaders in Salt Lake City approved the local officials' request for older students to benefit from the program.
Exceptions to the age policy have been granted before when an area presidency has recommended it, such as the short-term welding program in Mexico that guaranteed jobs upon training completion, said Thomas Rueckert, director of finance of Perpetual Education Fund, which issues low interest education loans.
"This was a no-brainer," said Rueckert. "It's a short course, the cost is small and the return is very high where people qualify for those professions in demand."
Typical Perpetual Education Fund recipients are 18 to 30, while most of the students in southwestern Peru are 35 to 45 years old and include many women.
"For the women, we are also trying to arrange something on the side like a sewing class," Earl said. "Teach them how to make quality clothes and sell them."
Rueckert said it's not just the short-term recovery church leaders see.
"Success in the program is when they become leaders in their home, church, and community," Rueckert said.
Velasquez Monterola has a positive outlook.
"I have faith all things will improve in our favor one step at a time," Velasquez Monterola said.

E-mail: jfrancis@desnews.com