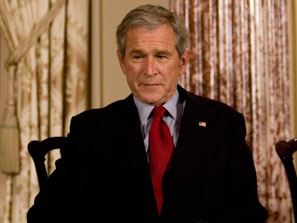 (left) President Bush, On Friday, Bush issued a proclamation to implement the U.S.-Peru free trade agreement on Feb. 1. He did so despite calls from top House Democrats and several interest groups to delay until Peru took all necessary steps to meet the promises it made as part of the trade negotiations. Photo: AP
Bush angers Dems on trade again
January 16, 2009 - Politico
By VICTORIA MCGRANE

With just four days left in office, President George W. Bush has angered congressional Democrats, labor unions and other trade activists one last time.
On Friday, Bush issued a proclamation to implement the U.S.-Peru free trade agreement on Feb. 1. He did so despite calls from top House Democrats and several interest groups to delay until Peru took all necessary steps to meet the promises it made as part of the trade negotiations.
"We do consider this a parting gesture of disrespect from the Bush White House to go ahead and implement the FTA before all the commitments have been fully complied with," said Thea Lee, policy director at the AFL-CIO, which was one of eight groups that issued a statement this week expressing dissatisfaction with Peru's compliance and urging the Bush administration to wait.
The incident caps a tumultuous two years in which congressional Democrats attempted to wrest trade policy from the Bush administration only to end up in a standoff, with two trade agreements -- Panama and Colombia -- signed on Bush's watch still floating in procedural limbo in the Congress.
The question now is whether this final contentious note carries forward to the new administration, or if President-elect Barack Obama intends to find a way to move a meaningful trade agenda forward, including the passage of the Panama and Colombia trade pacts.
There's plenty of speculation on what will happen -- and significant interest in the business community for Obama to engage on trade, but it remains unclear if he will, or when.
Friday's official certification of the Peru trade deal also miffed House Ways and Means Chairman Charles B. Rangel (D-N.Y.) and Trade Subcommittee Chairman Sander M. Levin (D-Mich.), who asked U.S. Trade Representative Susan Schwab Wednesday not to implement the agreement before leaving office.
"We made it clear to the United States trade representative that these issues should be resolved prior to certification. Regrettably, they were not, as the administration has moved to certify the FTA during in its last hours in office," the House Democrats said in a statement Friday.
In particular, Rangel and Levin do not believe Peru has fulfilled its obligations to ensure workers the right to freely association and collectively bargain.
"There's been some slow progress toward doing that but some pretty major deficiencies still remain," said the AFL-CIO's Lee, who has consulted with the unions in Peru. They report there are still quite a few obstacles to organizing in the country, Lee said.
The Bush administration disagrees. "Peru has put in place the laws and regulations necessary to meet those obligations," Schwab told Rangel Thursday, addressing the lawmakers' specific labor law concerns.
In addition to arguing that Peru has not done enough to meet its obligations to workers' rights, environmentalists say that some recent reforms enacted as part of the trade agreement may actually increase deforestation.
Earlier this month, the Peruvian government moved swiftly to enact a serious of legislative changes related to the trade agreement, ensuring the Bush administration could certify the agreement's entry into force before the hand off of power to Obama.
While Obama cannot stop the implementation, his new administration could urge Peru to make further changes to its labor laws and make other fixes -- something labor groups will encourage. The Obama administration could also file a petition, or accept one filed by an outside group, challenging Peru's labor compliance under the dispute settlement mechanism set up by the trade pact.
Rangel and Levin said they "are confident that the Obama administration will improve enforcement of trade agreements, including the use of the dispute settlement mechanism in the Peru and other FTAs."