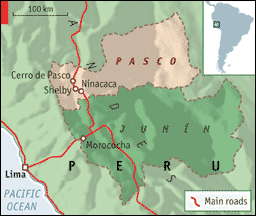 Mining in Peru
If a city's the pits
Jan 29th 2009 - The Economist print edition
Then move the city
CERRO DE PASCO -- MORE than 4,300 metres (14,000 feet) above sea level in Peru's central Andes, the cold, windswept Bombón Plateau is not an obvious place to build a new town. But plans are afoot to rehouse 70,000 people there over the next 10 to 15 years. The reason: the town of Cerro de Pasco, some 35kms (22 miles) away, is being eaten up by opencast mining.
Last month local residents voted in an assembly in favour of the plan. It is supported by Peru's president, Alan García. The country's Congress has called for detailed studies of a site around the villages of Ninacaca and Shelby.
The plan is logical. Cerro de Pasco has been mined, mainly for silver, lead and zinc, since the 17th century. Opencast mining by an American company began in 1956, and continued after it was nationalised in 1973. The city now teeters around a huge pit, two kilometres across and 350 metres deep. "There really is no city. What we have is a network of streets that end at a cement wall and a pit," says Félix Rivera, the governor of the Pasco region, who favours the move.
Privatised again in 1999, the mine is now owned by Volcan, a Peruvian company. Its expansion plan would eat up 11 hectares of the city, pushing the wall closer to the main square. Cerro de Pasco has never been a beauty spot. But the few local landmarks, such as the main church, would disappear into the hole by 2014. Mr Rivera says that daily blasting at the pit has weakened urban areas, and that many homes are unsafe. Studies have found that residents have high levels of lead in their bloodstream.
The regional government estimates the move will cost $500m. The mayor reckons the figure will be double that. Mr Rivera recalls a past plan to uproot Cerro de Pasco, in the late 1980s during Mr García's first term as president. His government spent $30m putting in electricity posts and building small houses at a spot on a highway out of the town. But the project was abandoned.
Local politicians say Volcan should stump up half the cost of the move. The company has said little. A spokesman recognised that any position it takes would be "controversial". If it backs the move, critics of mining among Peru's NGOs and environmentalists will accuse it of literally wanting to dig the ground from under the townspeople's feet. It it opposes the plan, it will be branded as wanting to expose people to further health risks.
In neighbouring Junín, a Chinese company, Chinalco, is proceeding with a plan to move Morococha, a town of 5,000 people, to develop a big copper deposit. This whole project will cost over $2.5 billion. Cerro de Pasco is a much bigger place. In the past few months the prices of minerals have plunged. Work on Volcan's expansion plan has slowed. So Cerro de Pasco's big move is far from certain.