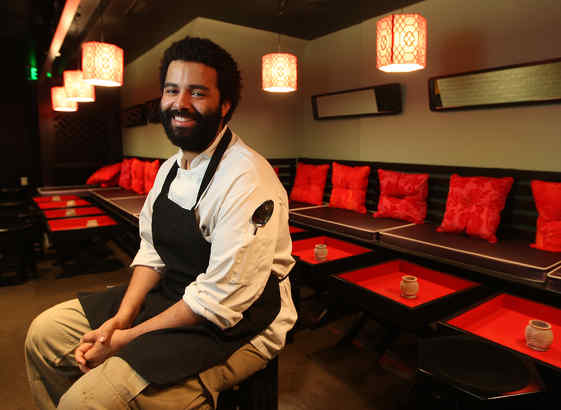 (above) Chef de cuisine Chad Williams. MICHAEL BRYANT / Staff Photographer
Got to original article for slideshow.
Expect the unexpected at Chifa
Jose Garces puts his own spin on the Peruvian-Chinese cuisine. It's the latest addition to his restaurant empire, and to East Chestnut's restaurant row.
March 1, 2009 - Philly.com
By Rick Nichols
Inquirer Food Columnist
If you are craving predictability on the restaurant row (Eastern Division) that is the 700 block of Chestnut Street, you might want to walk right on past Chifa, the newest Jose Garces contender: The prime steaks are next door at the vaulted-ceilinged Union Trust; the comfort food is at Jones across the street, where "Thanksgiving Dinner," should you have missed it (or have an off-season hankering for it), is on the menu every night.
At the Peruvian-Chinese hybrid called Chifa you will find, instead, bowls of chaufa rice, a stir-fry dotted with chorizo and topped with sweetly tender soy-glazed scallops, and diminutive ceviches far more complex (and the flavors far more balanced) than at your average ceviche bar, and, ahh!, pork belly buns, liberated from those doughy balls on the Chinatown dim sum cart; here they sport small steamed pancakes top and bottom, the grilled, shredded pork looking like barbecue - until you hit the slick of hoisin.
"Chifa" itself is multiple-meaninged. It is the cuisine that evolved in Peru after the influx of Chinese laborers 150 years ago, many of them literally "shanghaied" and shipped to work in the guano mines and plantations after the emancipation of the African slaves. Soy sauce ended up in Creole dishes, the national favorite lomo saltado for one, which at Chifa, the restaurant, is not merely mundane beef and stubby french fries over rice, but elegant beef tenderloin with fried potatoes tossed in soy-ginger-scallion sauce and stir-fried vegetables over rice. Ginger started showing up, and five-spice blends, and - because Peru was later host to a sizable Japanese immigration, as well - edamame beans and sushi technique and even a chile-flecked mayonnaise called togarashi.
But chifa cookery caught on so insistently that the places serving it (upwards of 4,000 in Lima alone) came to be called chifas, too: In Peru you get your chifa at the local chifa.
Even the handful of chifa-heads hereabouts will find Chifa unpredictable: It is Peruvian-"inspired," says Garces; and Chinese-"inspired." (A recorded phone greeting, in fact, promises only "Latin-Asian" food, giving Garces wiggle room to interpret and reconstruct the dishes of not just Peru, or a subset of its cookery, but of China's Canton province and the coastal beachfronts of Ecuador, Garces' ancestral home.
On a culinary scouting expedition to Peru last year, even Garces and his team, including Chad Williams, Chifa's chef de cuisine, were startled by how much was news to them. Yes, they knew ceviche was huge, but the fish markets of Lima had breathtaking variety, especially of shellfish. Williams pronounced himself astonished by the crowd at one place eating ceviche at 2:30 p.m. on a Wednesday: "It was [as packed] as a Saturday night dinner."
There was also the epiphany of leche de tigre, the so-called tiger milk made from emulsifying white fish with lime juice, raw onion and ginger to start the milky, more complex sauce that can take ceviche to an entirely new level. At Chifa, it's being used to build other sauces featuring orange and tomato and garlic, and is listed by name in oyster ceviche.
What you see isn't always what you get. Those chicken wings? They've been deboned and stuffed with a pork-dumpling mixture, turning them into chicken wing dumplings. The half a chifa chicken served in a cast-iron pot has taken a page from Peking duck; it's brined, poached, hung until the skin tightens, lacquered, then crisply roasted to order (which can take half an hour).
As at Garces' other Latin-accented rooms - Amada, Spanish tapas; Tinto, Basque small plates; Distrito, stylized Mexican street snacks - the plating here is suitable for framing. But it's hardly what you'd be inclined to call generous.
Should you want to tamp down your appetite accordingly, Chifa unwittingly has provided a mechanism - a gratis pre-meal bowl of pan de bono, hot, stretchy, fresh-baked yuca-flour-queso fresco bread balls to dip in a pot of tangy-sweet whipped guava butter.
Predictably, the kitchen has caught on: The word last week was that the bread basket was being targeted for a significant downsizing.