Peru Touts Progress in Replacing Drug Crops with Legal Ones
March 14, 2009 - Latin American Herald Tribune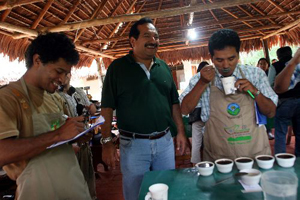 LIMA – Some 23,000 peasant families across Peru have stopped growing coca – the source of cocaine – in favor of legal, alternative crops such as coffee, cocoa and palm, the country's Devida counter-narcotics agency said Friday.
Devida chief Romulo Pizarro presented the figure during a visit to Tarapoto, a town in the northeastern region of San Martin, where the area planted with coca has declined from 16,000 hectares (39,500 acres) in the 1980s to 700 hectares (1,700 acres) today.
Under the "San Martin model," Peru is promoting crop substitution by organizing farmers into cooperatives.
The substitution policy, which is backed by aid from the United Nations Office on Drug Control, brought the 13 cooperatives nationwide profits of $92 million last year, U.N. regional representative Flavio Mirella said.
Both Pizarro and Mirella said how attractive the new policy was for peasants: it generates more and more profits and last year the number of farm workers taking part grew more than 50 percent, while the waiting list for new members continues to grow.
Mirella said that the new cooperatives boost the family economy, generate more value added, are better for the environment and give farm workers a new status, since the government gives them legal title to their lands and provides them with health insurance.
Despite all the efforts made by the Peruvian government, the reality of coca growing doesn't go away and the coca-leaf crops occupied 53,000 hectares (130,000 acres) in Peru in 2008, 4 percent more than the previous year, according to U.N. figures.
In neighboring Bolivia, coca cultivation grew 5 percent in the same period and in Colombia, 27 percent.
Around 50,000 Peruvian families now depend on coca for their livelihoods, according to Pizarro.
Peru and Bolivia permit the cultivation of coca in limited amounts for use in cooking, folk medicine and Andean religious rites. Coca, in its unprocessed form, is a mild stimulant that eases hunger pangs and alleviates altitude sickness.
But coca growers regularly exceed the legal quotas in both Bolivia and Peru, which produced 290 tons of cocaine in 2007, second only to Colombia, the world's leading supplier of the drug.
Pizarro said that the Peruvian model of crop substitution is applicable elsewhere but repeated the long-standing complaint that Europeans do little to help Peru with its policy, despite the fact that they receive 70 percent of the cocaine processed in this country.
"The problem isn't just in Peru but worldwide, which means it's a shared responsibility: helping us with this policy is really a way of protecting European youth," Pizarro said. EFE