Leading Peruvian Journalist Dies
March 16, 2009 - Latin American Herald Tribune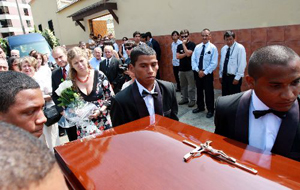 LIMA – Journalist and writer Guillermo Thorndike, who helped launch one of Peru's most respected newspapers, died of a heart attack in Lima. He was 69.
He was to be cremated on Tuesday and his ashes placed in the family's mausoleum at the capital's Presbyterian Cemetery, relatives told the press.
"We're all very sad, he left us from one moment to the next. The truth is we haven't yet grasped the magnitude of what has happened," the deceased's son, Augusto Thorndike, told RPP radio.
Guillermo Thorndike Losada was born in Lima on April 25, 1940, and has been one of the most important figures in Peruvian journalism for the past 40 years.
Thorndike was editor of the newspapers La Cronica and La Tercera, and founder of Cronicawan, the first nationally circulated newspaper in the indigenous Quechua language.
In 1981 he was founding editor of La República, a daily that continues to be one of Peru's newspapers of record.
Thorndike also developed an extensive oeuvre as a writer that includes such important works as "La Revolucion Imposible" (The Impossible Revolution), "El Año de la Barbarie en Lima" (The Year of Barbarism in Lima), and ( "El Caso Banchero" (The Banchero Case), all works of analysis or investigation into Peru's political and social realities.
His last active work in journalism was as news director of the RBC television channel, a position that he held until several months ago. EFE