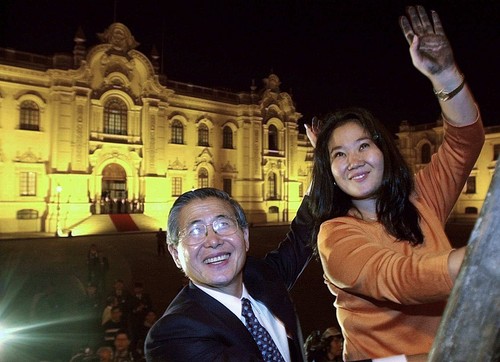 (above) Then-President Alberto Fujimori and his daughter Keiko outside the government palace in Lima in 2000. He soon fled to Japan. Photo: Roberto Candia / Associated Press
Daughter of Peru's Fujimori says she would pardon him if she's elected
March 19, 2009 - Los Angeles Times

Keiko Fujimori, a front-runner in some presidential polls, says strong support for her potential candidacy is a sign of strong support for her father, who is on trial on human rights abuse charges.
By Chris Kraul chris.kraul@latimes.com

Reporting from Lima, Peru -- Former President Alberto Fujimori of Peru is on trial here in his homeland, accused of human rights abuses that include massacres that left 25 people dead in the 1990s. It's a rare prosecution of a former leader in Latin America, with the verdict expected in a matter of days.
But he's not the only member of his family in the news. His 33-year-old daughter, Keiko, a former first lady and now a congresswoman, leads potential contenders for president in the 2011 race in some opinion polls. It's an indication of the strength of her father's legacy of a stable economy and a strong presidency, which is commonly called fujimorismo.
In an interview with The Times this week, the Columbia University MBA graduate said her father never should have returned to Latin America from exile in Japan in 2005, possibly to inject himself in the imminent presidential election. But she said unapologetically that she would pardon him if she was elected president.
Why did your father return from self-imposed exile in Japan in 2005? Did he think he would escape extradition from Chile, where he arrived first, and be welcomed with open arms?
He always said publicly he would return, knew he faced trial and that Chile would extradite him. He was facing 50 different charges when he left Japan, and many people advised him that the extradition process would filter out some of them. In fact it did. He now has seven charges pending
I didn't know what he was planning. When I was studying [for] my master's in New York, he called to tell me he was on an airplane and on his way and that there was a good chance he'd be arrested. But I never heard him sound so happy.
There was nothing I could do but wish him luck, but if I had had the opportunity I would have urged him to stay in Japan with his girlfriend, where he was secure and quiet.
He has already been convicted of illegal search and now faces much more serious charges including mass murder. You've said you will pardon him if he is convicted and you are elected president. Wouldn't that be a case of family loyalty trumping justice?
No, because thousands of other people consider Alberto Fujimori innocent. Now that we are so close to a verdict, I don't think he will need a pardon. I think he will be absolved. A more important question is: What is the proof against him? The prosecutors can't answer that. The people hope that the tribunal will have the independence of mind to take conscientious decisions without being pressured by the news media, which have waged a strong campaign against my father. My popularity in the polls reflects how people support me, my work and my style of being close to the people. But it also reflects strong support for my father. Just before he left Japan, one poll said 66% of Peruvians consider him the greatest president in our history.
What will your presidential campaign platform be?
I'm not announcing my candidacy yet, but I can speak to fujimorismo, which is about stable economy, open markets, investment and citizens' security. Those are the fundamental pillars. My father destroyed terrorism by establishing a presence where the state had never shown itself by building public works. He averaged one new school a day during his 10 years in office, opened post offices, clinics, hydroelectric projects, radio stations in remote areas, and this is why the most humble areas support fujimorismo.
The militant group Sendero Luminoso [Shining Path] is on the rise again. Why?
Big terrorist leaders were destroyed but some smaller chiefs remained, and now they are reorganizing and brainwashing our youth. During the government of [former] President Alejandro Toledo, many terrorists were pardoned. I hope that President Alan Garcia can control the insurgency that we are seeing in various cities in the Andes, such as Ayacucho and Huanuco. It's very worrisome.
The other side of the coin is that, at the very least, your father gave [convicted spymaster Vladimiro] Montesinos too much power.
Yes, he let him be next to him all those years. He didn't believe all the accusations against him, and actually there was no proof until videos [of Montesinos paying bribes to politicians] began to come out in September 2000. He trusted him too much and that was his biggest political mistake.
You are a free-trade advocate?
Yes. Peru has signed a free-trade agreement with the United States, [which] went into effect this year. It was made possible by changes in the constitution supported by my father in 1993 that gave legal guarantees to foreign companies equal to Peruvian companies. Peru has to look for larger markets to send its exports. We have free-trade agreements now with 10 countries. But I have my doubts about signing one with China. We should do them only with countries where the cost of labor is equal to or greater to Peru's.
Peru has made big strides in 10 years in security and affluence. What changes do you expect in the next 10 to 15 years?
We are among the very few countries in the world that are still growing despite the economic crisis. We have become leading exporters not just of natural resources, but of fish, fruit and vegetables. We are diversifying. We have less inflation and we ran budget surpluses in 2006 and 2007. That's making us less vulnerable to risk. A big weakness is still our educational system, but each president since my father has made contributions in that area, and in another 10 to 15 years we'll begin to see the fruits.
Why should you be president?
I assumed my first public charge when I became part-time first lady at 19 years old after my parents divorced. I have experience in social projects and a great aptitude for public service. If I can help my country, I will do it.